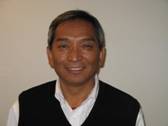 Tenzin Phuntsok Atisha, Representative of His Holiness the Dalai Lama in Australia
On 12 April, a large gathering of Tibetans and Australian supporters met in Dee Why to commemorate the 50th Anniversary of the Tibetan People's Uprising. It was an emotional occasion with the audience remembering the ongoing struggle of Tibet and expressing gratitude for the kindness and support of the many Australians who have come forward to assist in so many ways. The meeting ended on a happier note with a much applauded display of Tibetan song and dance performed by local Tibetans.
Tenzin Phuntsok Atisha, Representative of His Holiness The Dalai Lama in Australia, made the following speech:
On behalf of His Holiness the Dalai Lama and Tibetan Government in-exile, I take this opportunity, on the occasion of the Fiftieth Anniversary of the Tibetan People's Uprising, to express my heartfelt thanks and gratitude to the people and Government of Australia and especially to all the supporters of Tibet.
I sincerely appreciate the great contribution made by Australians to the Tibetan Community in exile, towards promoting and preserving Tibetan culture and in highlighting and educating the just cause of Tibet – not only to the Australian public, but also to the international community through various peaceful campaigns.
During 1959 and 1960, the International Commission of Jurists, Australian section played a prominent and vital role in establishing the status of Tibet and highlighting human rights violations in Tibet through its publications. Later, the gradual establishment of Tibet Support Groups across Australia since 1975 not only helped poor and needy Tibetan refugees in exile in India and Nepal, but also ensured the Tibet issue received wider international attention and awareness.
Tibet Information Office was formally established in Canberra in the early 1990s and in the late 1990s a Special Humanitarian Program was started by the Australian Government. I believe these actions represent a Statement of Justice, Care and above all Universal Responsibility by one fellow human being to another.
In a democratic country, people's voices have great impact and your voice will certainly make a big difference. As we speak here, Tibet is under undeclared Martial Law. Therefore, I urge you to continue your concern and support for the just and peaceful struggle of the Tibetan people through the Middle Way Policy of His Holiness the Dalai Lama in promoting Universal Human Values and Inter-Religious Harmony.
The Tibetan people and His Holiness the Dalai Lama will remain ever grateful and indebted to the great people of Australia. Your presence here tonight shows your generous and compassionate support.
Before I conclude, I once again would like to extend my Thank You to the Government of Australia, its people, the All Party Parliamentary Group for Tibet and all the founding members and present members of the International Commission of Jurists, Australian branch, and Tibet Support Groups: ATS, TFG, ATC, DLIA, ATWA and TAGWA. The Tibet issue would surely die without your support.
Thank you and Tashi Delek.