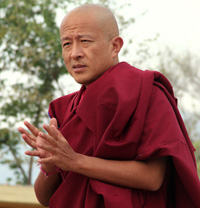 Dzongsar Khyentse Rinpoche
In what is being hailed as a landmark event in Buddhist history, 50 of the world's top translators and six incarnate lamas today pledged to translate all the Buddha's words into English within a generation. That, says Dzongsar Khyentse Rinpoche, who convened the gathering, may well preserve Buddhism from "global annihilation".
Meeting in the tiny village of Bir in northern India, leading Tibetan Buddhist teachers and representatives from major translation groups this week hammered out a 100-year vision to translate and make universally accessible the entire Buddhist literary heritage. They also produced concrete five and 25-year plans to accomplish what they agree is a monumental collaborative task. Tomorrow the translators will personally present that plan to the Dalai Lama in Dharamsala.
Already, enthusiastic expressions of support have been received from all parts of the world, with more than 11,000 signing a letter of appreciation to the translators. They wrote: "Without you, we couldn't practice or study the Dharma, so we are hugely grateful for your incredible gift to us! May your current deliberations in Bir, India, bring the Buddha's words and teachings to countless beings."
Among the specific pledges made today in Bir are the following:
Dzogchen Ponlop Rinpoche pledged his Nitartha Translation Network to work with Khyentse Rinpoche to translate, as a starting point, 10 volumes of the sutra section of the Buddhist Tripitaka.
Chokyi Nyima Rinpoche pledged his Dharmachakra translation house to translate all the Buddhist tantras ­ 22 volumes
Pema Wangyal Rinpoche pledged the Padmakara translation group to translate the entire Prajñaparamita ­ the Buddha's famous teachings on emptiness, and Khenpo Kalsang Gyaltsen pledged Tsechen Kunchab Ling to translate the 25,000 verses of Prajñaparamita. Those two commitments together comprise more than one-fifth of the entire Kangyur (the Buddha's own words).
Khyentse Foundation, which hosted the gathering, will support the initial planning of the massive project, and Khyentse Rinpoche agreed to act as its interim leader ­ at the urging of the assembled translators and lamas.
The translators also made plans to train more qualified translators, improve their tools and resources, and strengthen collaboration between western translators and Tibetan lamas and teachers.
"What we are doing here is really serving mankind and the world at large," Dzigar Kongtrul Rinpoche told the assembled translators. Orgyen Tobgyal Rinpoche called the Kangyur, which the translators aspire to translate within 25 years, "the most precious of all the scriptures" because they are accepted by all Buddhist schools. And Dzogchen Ponlop Rinpoche noted that translating the Kangyur "is crucial to establishing a genuine lineage of western Buddhism."
Jigme Khyentse Rinpoche reminded the translators that what they are really translating is the Buddha's wisdom, realisation, and compassion, and that the biggest obscurations to good translation are ignorance and pride. Emphasizing that the words of the Buddha are a "heritage of mankind" that can "bring peace and harmony to the world," Pema Wangyal Rinpoche urged their translation into French, Spanish, Arabic, and many other languages after English.
Renowned translators Matthieu Ricard and Robert Thurman called for scholarly translation to be joined with genuine understanding, wisdom and compassion based on meditation and with respect for teachers and their profound knowledge. Ricard also emphasised the importance of writing in beautiful, literary English.
For key presentations and information about the translation gathering, see: http://khyentsefoundation.org/ or contact Pawo Dorji at choyning.dorji@gmail.com or by phone at 09816-677-878.