DHARAMSHALA: The Academic Council of the Tuva State University of the Ministry of Education and Science of the Russian Federation, has unanimously conferred His Holiness the Dalai Lama the honorary title of Professor Emeritus, at the Tsuklakhang, on the last day of the special teachings held for Russian devotees from 19-21 December.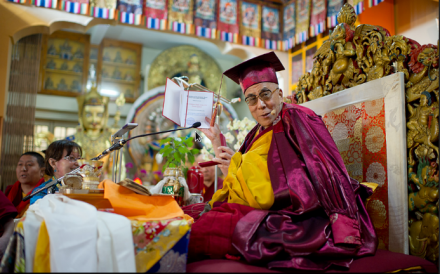 His Holiness wearing a cap and gown after receiving an honorary title, Professor Emeritus at the Tsuklakhang. (Tenzin Choejor, OHHDL)
"The Academic Council of the Tuva State University has unanimously decided to confer the honorary title of Professor Emeritus to Nobel Peace laureate, Doctor of Philosophy His Holiness the XIV Dalai Lama Tenzin Gyatso" Sergei Ondar, Chairman of the Academic Council stated in their statement.
The title was awarded in recognition of His Holiness the Dalai Lama's outstanding input to the development of Science and his contribution towards human rights, promotion of religious harmony, conservation of the environment and the strengthening of moral and ethical principles in the society, the statement said.
Thanking the Tuva State University for the title, His Holiness said that since his last visit to Tuva in 1992, he couldn't visit there again for a long time. But he said, he has been consistently meeting with  devotees from Tuva, Buryat and Kalmyk who are coming to Dharamshala for religious purposes.
His Holiness the Dalai Lama added that from his observation, there is an increasing number of people adhering to the Buddhist tradition which is a good sign.  People from far and wide are coming here traveling long distances.  
His Holiness also said, as a Buddhist monk, he prays for the well being of all the sentient beings and added that he is happy to pass on the great traditions pf Tibetan Buddhism to you all, who have come here from far , overcoming a lot of difficulties.