Story and photos: Australia Tibet Council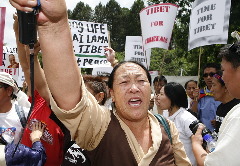 December 10th saw over 200 Tibetans and Tibet supporters from across Australia gather in Canberra for a vibrant and colourful day of action to mark International Human Rights Day.
The day began with a lively and eventful protest outside the Chinese Embassy. After traditional songs and prayers, Tibetan community leaders read statements calling on the Chinese government to meet the Dalai Lama, end their policies of repression and discrimination and allow meaningful autonomy in Tibet.
The protest was followed by a march along Commonwealth Avenue to Garema Place for a lunchtime rally in the centre of Canberra. Representatives from the Tibetan Community and ATC spoke passionately about the current situation in Tibet, highlighting Tibetans' daily struggle for human rights and basic freedoms, as well as the protection of their unique and fragile environment. Some shared personal stories of imprisonment, torture, humiliation and other extraordinary hardships that they or their families had endured under the current Chinese regime.
The protest at the embassy drew interest from local radio, television and newspapers. By mid afternoon stories had appeared on major online news services including the Sydney Morning Herald, The Age and the Daily Telegraph. Camera crews from Channel Nine, SBS and AAP were on hand to record the action. By Tuesday morning, news has appeared on many internet sites across India. Image ATC's Simon Bradshaw "This is a fantastic boost to our Olympics campaign and a testimony to the passion and spirit within Australia's Tibetan communities," said Simon Bradshaw, ATC Campaigns Coordinator.
The events in Canberra were organized by the Tibetan communities of ACT, NSW, and Victoria, with the Australia Tibet Council providing support with logistics and media liaison.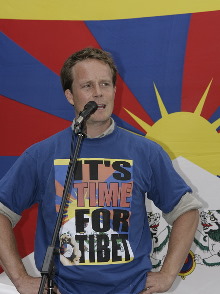 "Australia's Tibetans have sent a clear and confronting message to the Chinese government. Tibetans in exile will not be silent while those inside Tibet continue to face repression, extreme economic marginalisation and destruction of their environment," said Paul Bourke, ATC's Executive Officer.
Despite China's promise to the international community of improvements in human rights ahead of the Beijing Olympics next August, recent months have seen increased repression inside Tibet, heightened media censorship and vehement criticism of the Dalai Lama by the Chinese authorities.
During the morning's protest, representatives from each of Australia's Tibetan communities attempted to deliver a letter to the Chinese Embassy outlining their deep concern over these recent trends. Embassy officials refused, prompting emotional pleas from many of those gathered. Clearly exasperated, a large group rushed towards the embassy, making sure their message reached those inside. There were tears and impassioned cries but no violence or arrests, with the younger Tibetans and community leaders managing to console and restrain the crowd.
"Tibetans have never strayed from their commitment to non-violence and compassion. But we must remember that many Tibetans exiled in Australia have faced imprisonment, torture and forced labour at the hands of the Chinese government. They have been separated from their families and witnessed decades of systematic attacks upon their precious culture and heritage. It is inevitable the emotions will run high on an occasion such as this," said Tsewang Thupten, a Canberra Tibetan and organiser of the day of action.
December 10th, International Human Rights Day, marks the anniversary of the adoption of the Universal Declaration of Human Rights by the United Nations. The day carries a further special meaning for Tibetans, being the anniversary of the Dalai Lama's 1989 Nobel Peace Prize. Exiled Tibetan communities and their supporters all over the world gathered outside their local Chinese embassies to protest at over fifty years of human rights violation in Tibet.
ATC will be working with Australia's Tibetan communities throughout the coming year to highlight the situation in Tibet, build support for Tibet in Australia and encourage China to allow meaningful autonomy in Tibet.