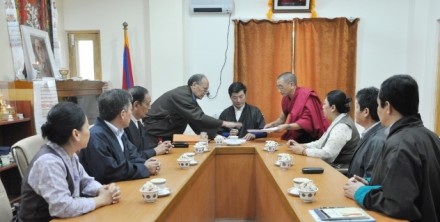 DHARAMSHALA: Kalon Tripa Dr Lobsang Sangay today ratified the recent amendments made to the Charter of Tibetans in Exile to change the official title of Kalon Tripa to Sikyong.
Kalon Tripa signed the Charter amendment at a ceremony held this morning at the Kashag Secretariat. Members of the Kashag, Secretaries of Tibetan Parliamentary Secretariat and Kashag Secretariat greeted Sikyong Dr Lobsang Sangay following the signing ceremony.
"The move to bring a motion on charter amendment to change the title of Kalon Tripa to Sikyong in the Parliament was discussed in the Kashag. The Parliament gave its unanimous approval to the charter amendment. We consider it as a historic transition and the need of the hour," Kalon Ngodup Dongchung told Tibet TV after the ceremony.
The 15h Tibetan Parliament-in-Exile unanimously approved the charter amendment during its fourth session held from 14-22 September.  Kalon Ngodup Dongchung introduced the motion in the House and it was endorsed by Kalon Dolma Gyari.
Following the devolution of his political authority to the democratically-elected Tibetan leadership, His Holiness the Dalai Lama said on 8 August 2011 that he was handing over the political leadership that he inherited from Regent Tagdra Rinpoche to Dr Lobsang Sangay, the first democratically-elected Sikyong or Tibetan political leader.