Dharamsala, October 25 – More protests against the Chinese government's education policy have been reported on Sunday as thousands of students took to the streets of Chentsa County to demand that the government revert its decision to replace Tibetan language as medium of instruction in Tibetan schools by Chinese language.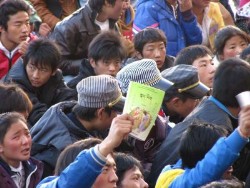 students protest in Chabcha county (October 19, 2010) Tibettimes photo
Sources also said that 20 students were detained following protests on Saturday in Chabcha County.
Sources say that teachers and school staff also joined the protest on Sunday that started around 7.30 in the morning yesterday. Students in Chentsa also protested on 19th and 21st October.
Meanwhile, similar protests have been reported from other areas as well. The first protests were reported from Rebkong on 19 October when Tibetan students from 6 different schools carried out protests demanding "Equality of People, Freedom of Language".
The past few days saw protests by thousands of Tibetan students in Chabcha, Chentsa, Khrigha, Golok and Beijing where 400 Tibetan students held protests against the forced replacement of Tibetan language by Chinese as the medium of instruction.
Meanwhile, a letter of appeal signed by several teachers was submitted to the Qinghai government on October 15 urging the provincial government to reconsider its decision to change the medium of instruction from Tibetan to Chinese. Khabda.org, a Tibetan language blog says it has obtained a part of the letter submitted in both Tibetan and Chinese.
The incomplete letter, Khabda.org says, contains signatures of 103 teachers but adds about 300 teachers signed the original letter.
Citing the Chinese constitution, the teachers wrote in the letter that the Article 4 of the Chinese constitution provides for all ethnic groups the freedom to use and develop their own spoken and written languages and to preserve or reform their own folkways and customs.