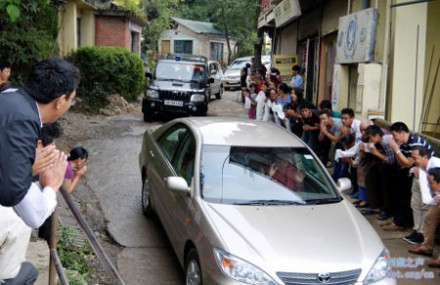 DHARAMSHALA: His Holiness the Dalai Lama left Dharamshala today for a visit to Germany.
During his visit, His Holiness the Dalai Lama will lead a discussion on 'Secular Ethics – Human Values In Our Lives' at Hamburg on 23 August.
His Holiness will give teachings on Shantideva's A Guide to the Bodhisattva's Way of Life (chodjug) on 24 – 25 August and confer an Avalokiteshvera Initiation (chenresig wang jigten wangchuk) on the morning of 26 August.
Following the teachings, His Holiness will attend the 25th founding anniversary of a German Tibet Support Group and will address the local Tibetans residing there.
On 26th August afternoon, His Holiness the Dalai Lama will address the celebrations of the 30th and 25th anniversaries of the Tibetan community in Germany and the Tibet Initiative Deutschland respectively in Hamburg.
His Holiness will address a Sino-Tibetan conference in Hamburg on 27 August. Intellectuals, officials, activists, writers, Sinologists from Europe, US, Asia and Australia will be participating in the conference.