DHARAMSHALA: A Tibetan political prisoner named Jigme Gyatso serving a 17-year long prison sentence in Chushul prison near Tibet's capital Lhasa is in critical health condition due to severe torture, according to a report received by the Central Tibetan Administration.
In 1996, the Intermediate People's Court in Lhasa levelled alleged charges of counter revolutionary activities against Jigme Gyatso along with a group of Tibetan residents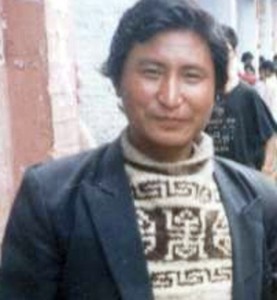 Jigme Gyatso/File Photo
of Lhasa. Jigme Gyatso was subsequently locked up in Drachi prison to serve a 15 year jail term with hard labour.
While in prison, Jigme raised slogans of His Holiness the Dalai Lama's long life which resulted in a 2-year extension of his incarceration. Nevertheless, he remained firm in his resolve for which he was severely tortured and beaten up rendering him physically very weak.
The severe beatings continued after he was shifted from Drapchi to Chusul prison and presently his survival is on stake due to the debilitating health condition.
Jigme was born in 1961 in Sangchu in Tibet's Amdo Province.
He used to live in Lhasa before the arrest and his mother passed away two years after he was arrested.
He was one of the first Tibetans who worked for the just cause of Tibet in Sanghcu, Ladrang in Amdo Province. During his stay in Lhasa he joined Tibetan friends and dedicated sincere efforts in number of activities for Tibet.
Notwithstanding physical weakness caused by beatings under the Chinese government's captivity, many Tibetans like Jigme have kept up their spirit of determination and courage to brave the repression.