July 10, 2012 2:41 pm
DHARAMSHALA: Fresh reports coming out of Tibet say one more Tibetan has self-immolated in Damshung near Tibet's capital last Saturday. Next day, the flame of truth relay to garner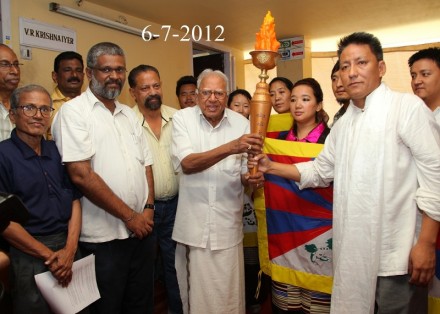 global support to end repression against Tibetans in Tibet kicked off from its designated zones in India.
The southern leg of the relay was launched by V R Krishna Iyer, a 95-year-old former judge in the Supreme Court of India and Padma Vibhushan recipient, at his residence in Kochi. A large number of Tibetans, Indian supporters gathered for the launch. Karma Yeshi, a member of Tibetan Parliament, leading the campaign, took Mr Iyer's signature on the petition to be forwarded to the United Nations to act on its past resolutions on the issue of Tibet.
Addressing the media, Mr Iyer said: "The Buddha is the ultimate source of blessings for the humanity. Tibet and the Tibetan people's culture are manifestations of the Buddha. His Holiness the Dalai Lama has worked tirelessly to promote human values, love, compassion and basic human rights. I pray for the realisation of all of his visions. His Holiness the Dalai Lama is not only an individual or the leader of a nation, but also an international figure working for the good of the entire humanity. Tibetans living in Tibet are passing through unimaginable suffering and they are like slaves in their own land. We must not let this tragedy to continue. Tibetans have the complete right to freedom and universal human rights. We must support their rights. We must support for their struggle to preserve their culture, identity and freedom. We firmly stand by them. May this day succeed in its endeavour."
The flame then passed through different corners of the city, with a stopover at a memorial of Mahatma Gandhi, where scores of Indian supporters joined the rally.
From Kochi, the rally will make its way to Tamil Nadu and then to other parts of the southern states.
Simultaneous relays started from Ladakh (North) and Shillong (East).
The flame of truth relay organised by the Tibetan Parliament-in-Exile aims to impress upon the United Nations to discuss the issue of Tibet based on the resolutions that it has passed in 1959, 1961 and 1965, and make continuous efforts to fulfill the substance of these resolutions. It demands an independent international fact-finding delegations to be immediately sent to investigate the ongoing crisis in Tibet.