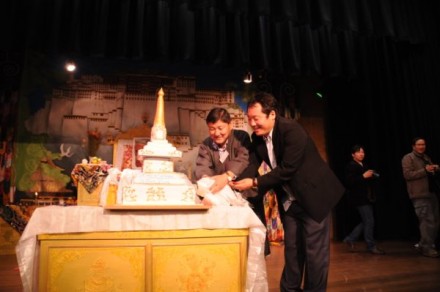 The cutting of the cake by Representative Sonam Dagpo (L), Mr Jigme Dorjee (R) and guest speaker, Honorable Peter Slipper, MP (not seen in the picture).
Canberra:
His Holiness the Dalai Lama may describe himself as a simple Buddhist monk, but his 75th birthday was celebrated by his followers and admirers all over the world with great revelry. In Australia, his birthday was marked with festivities in Canberra, Sydney, Brisbane, Melbourne, Perth, Adelaide and Tasmania.
In Canberra, a special function was hosted by the Tibet Information Office (Canberra) and Tibetan Community of the Australian Capital Territory (ACT) in the National Press Club of Australia on 7th July, 2010.
Australian Greens leader Senator Bob Brown and senior Liberal Party member Hon Peter Slipper MP were among the distinguished guests who attended the function. Hon Peter Slipper MP, a co-convenor of the Australian All-Party Parliamentary Group for Tibet, was also representing Hon Tony Abbott MP, Leader of the Opposition in the Parliament of Australia. More than 200 guest including diplomats, officials, academicians, media, Tibet supporters, Chinese and Buddhist representatives and Tibetans participated in the function.
The celebration featured a rich and diverse cultural program including Tibetan musicians Tenzin Choegyal from Brisbane, Tenzin Yeshe from Melbourne, a Sri Lankan dance troupe, a Nepalese dancer, a Mozart virtuoso violin performance by Mr. Yang Yang of the Chinese Community and Tibetan dances performed by the Tibetan Community of New South Wales.
The evening began with a traditional aboriginal "welcome to country" performed by Mr. Shane Mortimer, an elder of the Ngambri people, the traditional owners of the Australian Capital Territory.
In his commemorative speech, Senator Bob Brown, the guest of honour, described His Holiness the Dalai Lama as a "great and inspiring human being" and "Tibet's greatest gift to the world".
"In a world driven by national interests, economic growth and short-term political games, the Dalai Lama and Tibet offer the inspiration that all humanity needs. There is no greater exponent of the alternative, long-term, compassionate and global view than the Dalai Lama. No one person has offered a more cohesive, optimistic yet practical vision for the future than His Holiness."
As the host of the evening, Tibetan Community in ACT secretary Tsewang Thupten explained how Tibetans' admiration of His Holiness was based "not just on blind faith but on appreciation of his practical wisdom and compassion".
Mr. Sonam Dagpo, Representative of His Holiness the Dalai Lama in Australia, New Zealand and Southeast Asia gave a moving account of His Holiness's life, achievements, and tireless work towards a peaceful resolution for the Tibetan people.
Tenzin Lhadhar, President of Tibetan Community of ACT gave a vote of thanks which was followed by a cocktail reception.
Australia is today home to over 900 Tibetans and has grown into a major centre of the global Tibetan Diaspora.
Australia's celebrations of His Holiness's 75th birthday continued on 11th July, 2010 with Sydney's "Festival of Tibet". The event featured another elaborate program of cultural performances and speeches, along with the launch of a unique photographic exhibition titled "A Man of Compassion and Wisdom: The Dalai Lama's Journey".
–Report filed by Dr. Simon Bradshaw & Tenzin Dolma Dagpo on behalf of TIO.