DHARAMSHALA: Australia's Foreign Minister Kevin Rudd had raised human rights in Tibet and Xinjiang during his meeting with Jia Qingling, chairman of the Chinese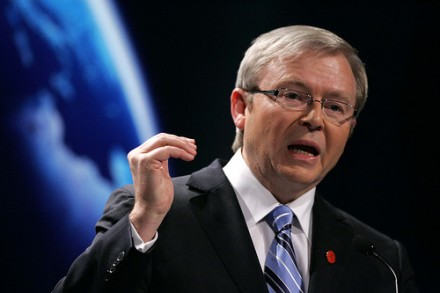 Foreign Minister Kevin Rudd/File
People's Political Consultative Conference (CPPCC) National Committee, in Brisbane on Saturday (9 April).
Prime Minister Julia Gillard also raised human rights when she met with Mr Jia on Thursday.
"They discussed human rights in China and, while noting the different systems in Australia and China, agreed to continue the dialogue between their governments on this issue," Mr Rudd's spokesperson was quoted as saying by The Sydney Morning Herald.
During his visit to China in 2008 as Australia's prime minister, Mr Rudd expressed concern over what he described as significant human rights problems in Tibet. "…We also believe it is necessary to recognise there are significant human rights problems in Tibet," Mr Rudd told students at Peking University during that visit.
"The current situation in Tibet is of concern to Australians. We recognise the need for all parties to avoid silence and find a solution through dialogue," he said in the speech, delivered in Mandarin.