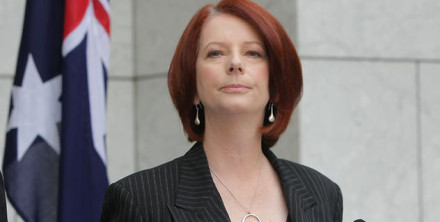 DHARAMSHALA: Prime Minister Julia Gillard said she would raise the issue of Tibetan human rights with the new Chinese leadership.
Ms Gillar said this Friday at a press conference on the first day of her week-long visit to China. (View video)
The Australia Tibet Council, a Tibet Support Group in Australia, said it has written a letter to Ms Gillard to encourage president Xi Jinping to address the current crisis inside Tibet.
In the letter to Prime Minister Gillard, Australia Tibet Council's Executive Officer Paul Bourke wrote that the urgent situation in Tibet warrants a totally new approach from China. This is where leaders like Prime Minister Julia Gillard can play a constructive role by sending the right message to the new leadership as they establish their positions on China's core issues, including Tibet.
On 20 March 2013, the Australia's upper house of Parliament passed a motion on Tibet moved by Senator Sarah Hanson-Young.
The motion notes the Australian Government's efforts to urge Chinese authorities: (a) to address the underlying causes of tension in Tibetan regions; (b) end the use of harsh policies, such as increased surveillance and violent crack downs, which have only exacerbated the security situation in Tibetan areas; (c) lift restrictions on access to Tibetan regions, including for international media and diplomats; and (d) resume substantive talks with the Dalai Lama's representatives to prevent the situation deteriorating further.