Phayul[Monday
New Delhi, March 26: A Tibetan youth today set himself on fire at a mass protest rally organised by the Tibetan Youth Congress in New Delhi, days ahead of Chinese President Hu Jintao's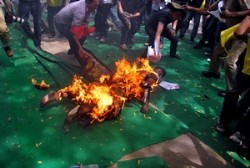 Jamphel Yeshi, a Tibetan youth living in New Delhi set his body on fire at a mass protest at Jantar Mantar in the Indian capital demanding international intervention in the ongoing crisis in Tibet on March 26, 2012. (Phayul photo/Norbu Wangyal)
visit to India.
The youth identified as Jamphel Yeshi aged between 26 -29, a resident of New Delhi, set his body on fire at 12:25 pm Indian standard Time.
He was rushed to a nearby hospital. The present condition of the youth is not immediately known.
In a repetition of the fiery protests that has engulfed Tibet for the past years, the youth Jamphel Yeshi, enveloped in high flames came out running and shouting from a nearby closed compound.
Running for about 100 metres, Jamphel Yeshi then fell to the ground where the Indian police and Tibetan activists tried to douse the flames.
After almost ten minutes, the youth was carried in a police car to a nearby hospital.
From the back of the vehicle his severely burned feet and flesh peeling off with the burns were clearly visible.
Tibetan activists from all over India are currently gathered in New Delhi to urge the international community to intervene in the ongoing critical situation in Tibet and also show Tibetan's protest against Hu Jintao's visit.
Today, March 26 also marks a century since the declaration of war against the Manchu occupying forces in Tibet in 1912.
30 Tibetans in Tibet have set their bodies on fire in Tibet since 2009 demanding the return of His Holiness the Dalai Lama from exile and freedom in Tibet.
Pawo Thupten Ngodup was the first known Tibetan to have self-immolated for the cause of Tibet in 1998. Jampa Yeshi's self-immolation today took place at almost the same place where Pawo Thupten Ngodup self-immolated.