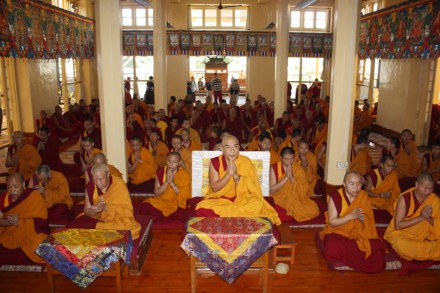 The monks of Namgyal monastery lead a prayer gathering at Tsulagkhang this morning to pray for the people affected by Typhoon Morakot in Taiwan. The prayer sesion was organised by the department of religion and culture of the Central Tibetan Administration in Dharamsala, India/Photo: Sangay Kyap
Dharamshala: The Central Tibetan Administration organised a prayer session this morning to express its deep condolences and prayers for all those people who died and injured due to the devastating typhoon Morakot that struck Taiwan. The Tibetans also prayed for the peace and happiness of the entire humanity.
The prayer congregation, which was attended by around 200 Tibetans, including people from both the monastic and lay communities, was arranged by the department of religion and culture at Tsuglagkhang, the main temple in Dharamsala.
Typhoon Morakot, that struck the island nation 12 days ago, was the worst weather disaster in half a century to hit, which has killed nearly 600 people and destroyed 443 villages. Morakot triggered landslides and severe flooding that trapped thousands of people in remote southern mountain villages for days, media reports said. More than 58 countries have poured in aids for the relief and rescue missions in the affected areas.
Venerable Tsering Phuntsok, Kalon for the Religion and Culture, presided over the prayer gathering. In his brief address, Kalon Tsering Phuntsok said, "The Tibetans pray for the attainment of rebirth in higher realms for those who died and speedy recovery of those who were suffered injury during the calamity."
Speaking to reporters after the prayers, Kalon Tsering Phuntsok said, "Owing to religious ties between the Tibetans and Taiwanese, the Central Tibetan Administration sympathises with the people of Taiwan for the pain and misery caused by the typhoon and pray for their well being."