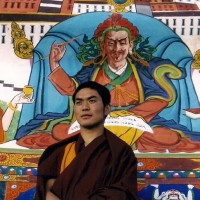 File photo of Tashi Sangpo/Wokar.net
Dharamshala: Some 95 Tibetan monks have been arrested or surrendered themselves on Sunday after hundreds of Tibetan protesters attacked the local police station in Gyala township of Golog Tibet Autonomous Prefecture, China's official Xinhua news agency reported.
Angry Tibetan protesters clashed with police on Saturday afternoon after a 28-year-old monk from Ragya Monastery, named Tashi Sangpo, committed suicide by jumping into Machu (Yellow river) fearing arrest for keeping banned Tibetan national flag.
According to initial reports on Saturday, around 4,000 Tibetans gathered at the police station and shouted slogans of "Tibet independence and long live the Dalai Lama".
Tashi Sangpo was involved in removing China's national flag and unfurling a Tibetan national flag atop the main prayer hall of the monastery on 10 March 2009.
The Xinhua report said police are interrogating the suspects.
During interrogation Chinese prison guards resort to extreme brutality and inhuman treatment of Tibetan detainees.
The Chinese police beating and torture of Tibetans after large scale protests across Tibet since March last year left 220 Tibetans dead and over 1,294 seriously injured.