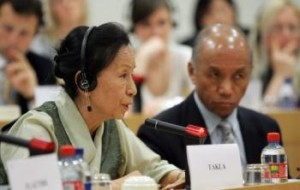 Kesang Yangkyi Takla and Jampal Chosang (AFP)
BEIJING (AFP) – China on Tuesday laid out ground rules for further talks with the Dalai Lama, saying he must first stop pushing for Tibetan independence and provoking deadly unrest in his Himalayan homeland.
The Chinese government has made similar demands many times and appeared to throw up a hurdle to continuing dialogue between the two sides, as the Tibetan spiritual leader has repeatedly denied such actions.
"I want to stress that this current contact is only a beginning," foreign ministry spokesman Qin Gang said in the government's first direct comments on Sunday's talks between Chinese officials and two of the Dalai Lama's envoys.
"The central government's contact with the Dalai is sincere. So long as the Dalai's side exerts sincerity, especially in its actions, then the contact will continue."
AFP | Link