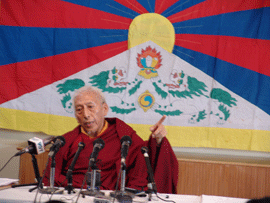 Dharamshala: Kalon Tripa Samdhong Rinpoche, Chairman of the Kashag, expressed outright rejection of the Chinese Premier Wen Jai Bao's claim that "the Dalai clique" organised the unrest in Tibet, as "absolutely baseless allegations".
"It was a spontaneous reaction to a brutal handling of peaceful demonstrations led by Tibetans on 10 March – the 49th anniversary of the Tibetan Uprising in Lhasa in 1959," said Kalon Tripa, while addressing media persons.
Blaming Chinese leaderships' repressive measures for escalating the protests, Kalon Tripa said: "If these people are allowed to express their feeling peacefully, rather than using brutal force, the situation could not have become worse."
Kalon Tripa underlined that the People's Republic of China should allow the international community to conduct impartial investigation of the real cause of the protests. He added: "China must open Tibet to the international examination or investigation."
Kalon Tripa said: "If they have any evidence, than they should let the world to know the evidence."
Kalon Tripa: Tibetans stand open to dialogue
The peaceful demonstrations in Tibet are natural response by Tibetan people in trying to express their aspiration in a lawful and democratic manner, because of deep-seated unhappiness and frustration against China's policies, said Kalon Tripa.
Kalon Tripa said: "We sympathies with them and understand their feelings," adding that "the demonstrations might continue, until some kind of justice being achieved by Tibetan people."
He reiterated that His Holiness the Dalai Lama's commitment to the Middle-Way policy would remain unchanged and His Holiness is open to dialogue with People's Republic of China, if they are willing to resolve the issue of Tibet.
Ruling out any expectation from the present Chinese leadership, Kalon Tripa said, from our side, we will consistently engage with them and try to persuade them to find an amicable solution by negotiation, and our effort will continue.
Kalon Tripa: Reunification of entire Tibetan people under one autonomous administration
Kalon Tripa said, "the provision of national regional autonomy as enshrined in the constitution of the People's Republic of China, the Tibetan nationalities should be incorporated under a Tibetan Autonomous Region."
He said, the Tibetan people are dissatisfied with Chinese government's repressive measures, every year thousands of Tibetans escape risking their life to come into exile.
Kalon Tripa: We are helpless in leading the Tibetans in Tibet, but hope they should adhere to non-violence
Expressing helplessness in leading the people in Tibet, because of being unable to reach out to Tibet, Kalon Tripa said, His Holiness's only wish that Tibetan people must remain non-violence in their struggling.
Appealing international community to persuade China to stop violent and repressive measures in handling the crisis, Kalon Tripa underlined that an impartial fact-finding delegation should be send to Tibet to know the ground reality.
He requested international organisations, such as the Red Cross and Doctors without Borders to help those Tibetans, who are either injured during the series of violent crackdown by Chinese forces.
Condemning the repressive measures used by the China authorities as the cause of protests, Kalon Tripa said, the international community is requested to prevail upon the Chinese leadership to find a peaceful solution to the Tibet problem.
Kalon Tripa: Indian government's stand on Tibet consistent since 1951
The Government of India's position on Tibet vis-a-vis China has been very consistent since during the time of late Prime Minister Pandit Nehru and there is no change in that position till today.
India's External Affairs Minister Pranab Mukherji and also the MEA spokesperson have repeated the official line, which is well known to the world.
Kalon Tripa: His Holiness could not lead Tibetans on moral ground, if resort to violence
Clarifying His Holiness statement that he would resign if the situation worsens in Tibet, Kalon Tripa said, His Holiness since long time has often stated that he will step down from leading the Tibetan struggle if the movement turns into violent struggle.
Kalon Tripa said, "His Holiness's statement should be seen in the context of moral responsibility to his commitment to the principle of non-violence and, otherwise there is no system of spiritual leader to resign."