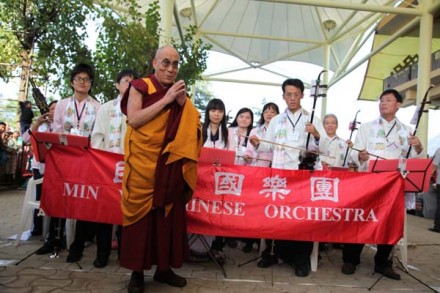 His Holiness being welcomed to the temple by a Taiwanese musical band
DHARAMSHALA: More than 950 Chinese from Taiwan and mainland China are attending His Holiness the Dalai Lama's teaching on Nagarjuna's "In Praise of Dhammadhattu" at the Tsuklagkhang which began today.
In his address to the public before starting the teaching, His Holiness the Dalai lama expressed his greetings to the devotees who have come from all across the world particularly to a group of Buddhists from Taiwan and other devotees from Himalayan regions and new arrivals from Tibet.
He said, "if you pray with a pure heart and a clean mind, a lot of positive energy will come to you".
He added that positive energy is not something invisible. When you have positive energy, you will have a clean heart and the ability to inculcate a positive approach towards life. And because of that, you will be able to experience a lot of positive difference in your life.
A total of 5500 devotees from 52 different countries are attending  the teaching. The teaching is organised at the request of a group of devotees from Taiwan.
The teaching will continue till the 4th of October.
The teachings will be telecast live on Tibetonline.tv and Dalailama.com