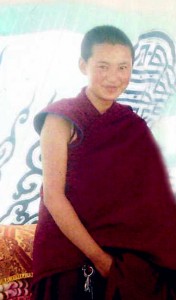 1202-176x300
DHARAMSHALA: Reports coming out of Tibet says an 18-year-old nun of Mamae Dechen Choekhorling nunnery in Ngaba in northeastern Tibet has set herself on fire in protest against theChinese government.
Tenzin Choedron set herself alight at a crossing near the nunnery on 11 February, raising slogans against the Chinese government. Chinese security forces and police immediately took her away, and they later sealed off the nunnery. As of now, her whereabouts and condition remain unknown.
This is the second incidence of self-immolation at this nunnery. In October last year, 20-year-old nun Tenzin Wangmo died of self-immolation.
Mamae Dechen Choekhorling, which is the largest nunnery in Ngaba, is located 3 kms from Ngaba town. It currently has around 350 nuns.