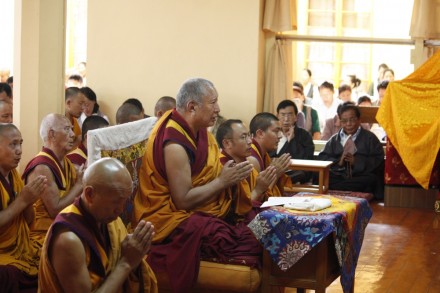 DHARAMSHALA:  Thousands of Tibetans, including the entire staff of the Central Tibetan Administration, attended a prayer service organised by the Department of Religion and Culture of the Central Tibetan Administration to mourn the spate of tragic self-immolations of Tibetans.
Speaking at the prayer service, Home Kalon Dolma Gyari spoke briefly about Tamding Thar, who self-immolated in protest against the repressive policies of the Chinese government in Tibet. Kalon Dolma Gyari said Tamding Thar is one of those Tibetans who have suffered under the forced "nomad relocation policy" of the Chinese government.
She said, so far 40 Tibetans have set themselves on fire in Tibet since 2009, out of which 30 of them  died, and urged the world community and the international media to understand the ground realities facing the Tibetans inside Tibet.
She also informed the people about the support, the Central Tibetan Administration has been able to garner from world leaders and parliamentarians, including the European Parliament, the political parties in South Africa and the Brazilian Parliamentary Friends of Tibet.
The prayer service was presided over by His Eminence Kirti Rinpoche, the head of the Kirti monastery.