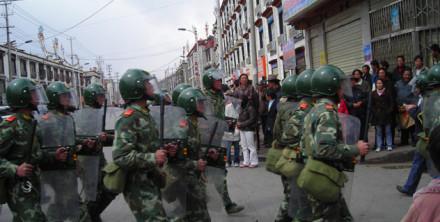 Dharamshala: The Tibet Policy Institute (TPI), a think-tank of the Central Tibetan Administration, yesterday released the revised version of its White Paper on Tibetan self-immolations on the occasion of International Tibet Solidarity Day.
The White Paper titled 'Why Tibet is Burning..' explains the fundamental reasons behind the ongoing wave of self-immolations inside Tibet and the alarming escalation in the protests witnessed in the past few months.
The revised version is available in English, Chinese and Tibetan, Russian, Czech, German, Hungarian, and Italian languages. All the translations are facilitated by the Department of Information & International Relations and concerned Offices of Tibet (OoT), especially OoTs in Geneva, Taiwan and Moscow.
"We issue this report to illuminate the deeper layers of the current crisis in Tibet. It is our hope it will motivate and assist members of the international community to urge the new leadership, led by Xi Jinping, to initiate wise new policies in regard to the Tibetan people. As we have repeatedly said, the blame for and the solution to the crisis in Tibet lies in the hands of the Chinese leadership" Sikyong Dr Lobsang Sangay stated in the foreword of the book.
Despite the Kashag's repeated appeals to the Tibetan people not to resort to drastic actions such as self-immolation, over 117 Tibetans have set themselves on fire in Tibet to protest against the continued occupation and repression of the Chinese government. The self-immolators have called for the return of His Holiness the Dalai Lama to Tibet and freedom for Tibetans.