DHARAMSHALA, December 12: Tibetan spiritual leader His Holiness the Dalai Lama, currently on a three-day visit to the Czech Republic, met with former president Vaclav Havel and Czech Foreign Minister Karel Schwarzenberg over the weekend.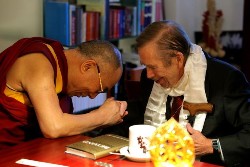 His Holiness the Dalai Lama greeting former Czech President Vaclav Havel in Prague on December 10, 2011.
The Dalai Lama arrived in Prague Saturday after a two-year gap at the invitation of close friend Vaclav Havel.
Upon arrival, His Holiness met the Former President for an hour, discussing the recent developments inside and outside Tibet.
Acknowledging the "love of the Czech people for the Dalai Lama", Vaclav Havel thanked the Tibetan spiritual leader for his 9th visit to the former communist nation.
Calling Vaclav Havel "a source of inspiration", the Dalai Lama appreciated Havel's firm stance on the principles of democracy and human rights.
Wishing a speedy recovery to the former president, who had not been keeping well lately, the Dalai Lama told Havel that he must live for another 10 years.
Describing his Sunday meeting with the Dalai Lama as "friendly and private", Foreign Minister Schwarzenberg told reporters that the he had "an inspiring conversation" with the 76-year old Nobel Peace laureate.
Later in the day, His Holiness gave a public talk on "Searching for Happiness in a Troubled World".
On his last day in Czech Republic, the Dalai Lama addressed a round table conference on "Democracy and Human Rights in Asia: One Year After an Empty Chair in Oslo" along with other speakers including former French Foreign Minister Bernard Kouchner, Nobel Laureate Dr Shirin Ebadi, Mr. Stéphane Hessel, co-drafter of the Universal Declaration of Human Rights and Dr Jianli Yang, President and Founder, Initiatives for China.
The conference, held exactly a year after the Nobel Committee honoured Chinese dissident Liu Xiaobo with the 2010 Nobel Peace Prize, focused on the current state of democracy and human rights in Asia.
Speaking at the conference, the Dalai Lama pointed out China's potential in bringing "considerable benefit" to the planet but said that the communist country lacked international respect.
The Dalai Lama noted that the prevalent "fear" of China has provoked mistrust amongst the international community thus stubbing out respect for China. As a remedy, His Holiness suggested that China embrace more democracy, human rights, freedom of speech, and the rule of law.
Commenting on China's use of force and repression in the face of problems, the Tibetan spiritual leader pointed out that repressive policies not only fail to solve problems but instead lead to the growth of more dissent under the surface.
His Holiness the Dalai Lama first visited Prague at the official invitation of President Havel soon after the Velvet Revolution in January 1990. President Havel became the first President after the fall of the communist rule.