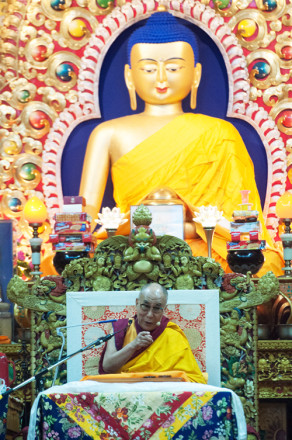 September 30, 2013 10:19 pm
DHARAMSHALA: Thousands of devotees from 54 countries, including hundreds from Taiwan, Mainland China and Hong Kong, are in Dharamsala to attend His Holiness the Dalai Lama's four-day teaching which began today.
His Holiness the Dalai Lama is teaching 'Nagarjuna's Sixty Stanzas of Reasoning' and 'Tsongkhapa's Concise Treatises on the Stages of the Path to Enlightenment' at the request of a group of Taiwanese at the Main Temple.
The teaching began with the recitation of Heart Sutra in Chinese by Taiwanese and Chinese devotees.In his introductory address, His Holiness the Dalai Lama said human beings during the course of its evolution developed two unique characteristics – intelligence and language – which he said should be used to seek happiness and not to create conflicts.
He said human beings also developed faiths in different religions to deal with problems that they cannot overcome by their own capabilities.He said all the different religious traditions attach great importance on promotion of positive human values like warmheartedness, tolerance and contentment.
Seven billion people on this planet believe in different religions as they have varied choice and disposition, he said, adding that in addition to following one's faith it is equally important to respect other religions and co-exist peacefully.
His Holiness the Dalai Lama said as multitude of conditions causing attachment and hatred in human beings exists, it is matter of great sadness and loss if religion becomes a tool of these negative afflictions.
His Holiness expressed grave concern over the recent allegations against some Burmese monks for perpetrating violence against Muslims.  He said Burmese leader Aung San Suu Kyi also conveyed serious concerns over this issue during their recent meeting at Forum 2000 event in Prague.
His Holiness said that during his interaction with scientists over the last 30 years, they spoke about the lack of positive values like warmheartedness in the family and society. As it is very difficult to promote warmheartedness through preaching religion, we need to think about the secular approach. Scientists have started secular education to develop warmheartedness in the US and there are hopes that Europe will follow suit.
We are in the process of formulating a curriculum for secular education, he said, telling the Taiwanese followers to think about it.