Dharamshala: The Central Tibetan Administration this afternoon conducted a special prayer service to mourn the death of hundreds and for the speedy recovery of thousands wounded in the powerful earthquake that hit north-eastern Tibet with its epicentre Yushul/Kyigudo on Wednesday morning.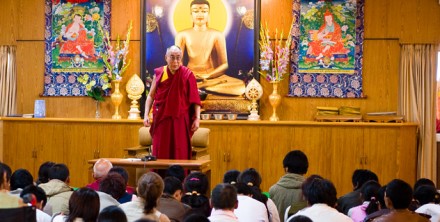 His Holiness the Dalai Lama offers condolences to the victims of the recent earthquake that struck Kyigudo in north-eastern Tibet on Wednesday/Office of His Holiness
The senior officials of the administration, including the Chief Justice Commissioner and Justice Commissioners, members of Tibetan Parliament-in-Exile, members of the Kashag headed by Kalon Tripa, and staff members from all the departments and offices observed a one hour-prayer session.
A special prayer service is being held at the main temple (Tsuglagkhang) in Dharamsala on their behalf, His Holiness the Dalai Lama said in his condolence message. (Click to watch web cast of His Holiness' message)
The death toll has risen to about 400, and around 10,000 have been injured with an unknown number of people still trapped in the debris, media reports quoted government officials as saying.
The powerful 7.1 magnitude measured by the China Earthquake Networks Centre toppled 85 percent of houses in Kyigudo township.
A local government web site puts the regions population in 2005 at 89,300 – a community of mostly herders and farmers.
Editor: Lobsang Choedak