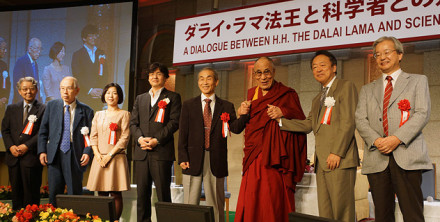 (Dalailama.com)
Tokyo, Japan 17 November 2013
For the fifth in a series of dialogues His Holiness the Dalai Lama has held with scientists in Japan since 2004, he was accompanied into the hall where the meeting was taking place by the Abbot of Koyasan, headquarters of the Shingon school of Japanese Buddhism. Dr Haruo Saji opened proceedings, drawing attention to the many correspondences that exist between Buddhist and scientific approaches to reality. He also mentioned that there are things that are difficult for us to know and referred to our inability to see our own real face. He said what we see in the mirror is only a reflection and a photograph is only dots of ink on paper. The Koyasan Abbot said he has found much in common between his tradition and Tibetan Buddhism and looked forward to listening to His Holiness's conversation with scientists. The moderator, Prof. Akira Ikegami introduced His Holiness.
Addressing his fellow panellists and the members of the audience as his respected brothers and sisters, His Holiness said how happy he was to participate in this dialogue. He mentioned that he has been engaged in dialogue with scientists, principally concerning cosmology, neurobiology, physics and psychology, for the last 30 years. The conversations have been mutually beneficial, he has learned a great deal about particle theory and matter, while the scientist have begun to pay more attention to the inner world of the mind and emotions.
"In order to understand the way our brains behave," he said, "we have to study our emotions and their effects. In the past, it seemed as though science and spirituality were opposed to each other. However, it's not a useful division to maintain, because the one tradition deals with knowledge of the material world and the other with the inner world of the mind; we need to know about both."
He pointed out that the Buddha's advice to his followers not to accept what he said at face value, but to experiment with it, to examine and investigate it, contains a healthy scepticism in common with a scientific approach. Subsequent Indian masters like Nagarjuna had followed this advice critically examining what true cessation, the third of the Buddha's Four Noble Truths, meant. He revealed that liberation or true cessation is a state of mind in which the negative emotions that defile and obstruct the mind have been completely eliminated. And to achieve it we have to understand emptiness of intrinsic existence. Nagarjuna clarified that to say 'form is empty, emptiness is form' refers to nothing existing objectively, to things existing merely as designations on the basis of their parts.
His Holiness highlighted the practical nature of the Buddha's teaching. The Four Noble Truths were taught on the basis of causality. The Buddha himself was, to begin with, an ordinary human being like us, but through intense training became enlightened. He said we all have Buddha nature, but we have to bring it to fruition through our own efforts. Buddha nature is our subtle mind and mind is perfected by employing the mind.
"From a Buddhist point of view understanding emptiness is important, because it is through this wisdom, this glimpse of reality, that we eliminate our disturbing emotions. An American friend, a psychiatrist called Aaron Beck, once told me that when people are angry, they see the object of their anger as almost entirely negative, yet 90% of this is just their mental projection. Ignorance, which underpins our destructive emotions, has no valid basis, but the wisdom that understands reality in based on reason. The Buddhist approach is to use our intelligence to the maximum. We have to investigate and seek truth from facts. And for this reason I am eager to engage in discussion with scientists."
Moriya Okano, Director of the Samgraha Institute for Educational, Psychological and Spiritual Studies spoke about cosmos therapy. He explained that one of the drawbacks of science has been its reduction of everything to material terms, which has caused people to lose sight of a sense of ethics and meaning in life. The consequent sense of meaninglessness has led to depression and despair. However, the emergence of ideas of ecology, the theory of relativity, genetic research has led them to appreciate that they belong to a greater whole, which has therapeutic value.
His Holiness remarked that Buddhists distinguish inanimate living things from sentient beings. Although plants, animals and people can ultimately be reduced to the same kind of particles, plants have no ability to know and no ability to feel pleasure or pain. The difference is the presence of consciousness, the substantial cause of which is consciousness. His Holiness mentioned too that after extensive discussions with his old friend Francisco Varela they had concluded that a sentient being could be defined as something that can move voluntarily.
Susumu Sakurai, a Master of Science at Tokyo Institute of Technology gave a presentation about Mathematics in relation to humanity. He asserted that mathematics has been developed and explored by human beings who have discovered numerical realms that are superior to the universe as a physical entity, but which have also become a significant tool to understand the universe. He cited the curious perfection of 'pi', the mathematical constant that is the ratio of a circle's circumference to its diameter. He gave an enigmatic demonstration that everyone's birth date could be found in it.
Asked to comment, His Holiness said that to do so he would need to know something about the topic and that although the presentation had been wonderful, he had always been poor at mathematics.
The third presentation of the morning was given by Akiko Katsumata, Assistant Professor at Suzuka Junior College. She spoke about the importance and educational value of putting yourself in someone else's place and cited several cases when she had learned a lesson because she had failed to do so. On one occasion she went to a restaurant with someone with cerebral palsy and proceeded to order for her, thinking it was a kindly and efficient thing to do. Her companion complained that she had behaved as if she did not exist.
Another time she was working with victims of the Tohoku earthquake who were living in makeshift housing. She was taken aback to hear that for one woman the worst part of it was having to live with a dirty kitchen, because everyone traipsed through it. Finally, she amused the audience with photographs of the 'angel smile' on the face of a newborn baby who would normally be regarded as helpless.
Asked for his thoughts to end the morning session, His Holiness said:
"All beings want happiness and to live in peace undisturbed. Therefore the concept of human rights is universal. It should apply to everyone who experiences pain or pleasure. This is also why developing sincere concern for others is the source of your own peace of mind; it brings with it trust and a sense of peace. Cultivating warm-heartedness contributes to our own well-being."
The afternoon session opened with Norio Kaifu, Professor Emeritus, National Astronomical Observatory of Japan, who declared that he was an astronomer with an interest in Buddhism. He said that he believes there is neither a beginning nor a final theory about the universe. In fact the universe is evolving as it continues to expand. He said the universe has evolved through a combination of the laws of physics and an enormous series of coincidences, citing his own life as a consequence of such a series of coincidences. He suggested that in this context, Buddhism seems to be the only religious tradition that is compatible with science. He concluded by telling His Holiness that he is part of an international project to construct an astronomical observatory in Tibet.
The second presentation of the afternoon was given by Shinichi Nishikawa, Professor Emeritus, Kyoto University who asked what scientists should be looking for in the 21st century. He drew attention to the number of things that human beings deal with that have no physical existence. He gave the example of a clock which physically exists, but also of its function and purpose to tell the time which has no physical existence. He also mentioned that it is the emptiness of a vessel and the space in a window or doorway, an absence of physical existence, that allows them to function.
His Holiness was prompted to remark that there is an important difference between something that is shown not to exist and something that has not been proved to exist. He talked about three classes of phenomena, those that obviously exist, those that are slightly hidden and those that are extremely hidden. Obvious phenomena are the things we can see, but also include our experience of consciousness, which is obvious to us even though we cannot see, touch or measure it.
With regard to slightly hidden phenomena, if you are unsure about something, in order to prove its existence you can cite a causal relationship. You can say that in the absence of an effect, you can infer the absence of the cause. Or because you can see the result, you can infer the existence of the cause. When it comes to extremely hidden phenomena our recourse is to a reliable informant.
His Holiness explained that Buddhist literature preserved in Tibetan can be classified into science and philosophy, which can be of interest to anyone, and religious matters of interest only to Buddhists. He announced that two volumes of Buddhist science materials have been compiled and will be published in the near future.
Among the final comments, Prof. Nishikawa said that due to the constraints under which they function, scientists are not free but they are safe. His Holiness responded:
"I've had many serious discussions with many scientists. And I've discovered that the best scientists are intelligent, open-minded and receptive. Their minds are not set, but open. However, they do not accept anything until it can be proved by experiment and reason."
Prof. Kaifu asked His Holiness how he would summarize Buddhism and he replied:
"All major religions carry the same message about seeking to live a happy life. What is unique about Buddhism is that not only is there no concept of a creator, but also no concept of an inherently existent self. Its basic philosophical view is that all things are interdependent, that they come about in dependence on other factors, and its conduct, non-violence, is of universal benefit."
Prof. Murakami was invited to offer closing remarks. He said he was happy to have been able to bring this event about. He thanked His Holiness, the moderator, the coordinator, the five speakers and Mr Lhakpa Tshoko, His Holiness's Representative in Japan, for their contributions to making this special event possible. The audience was generous with its applause.