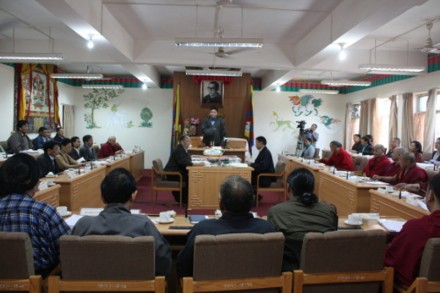 The first day of the 8th session of the Parliament (Photo: Sangay Kep)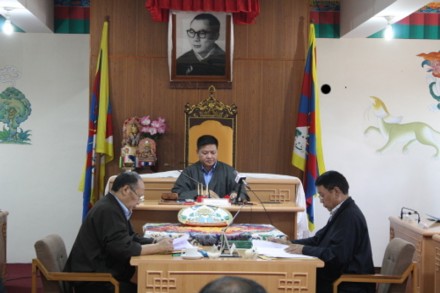 The Speaker, Penpa Tsering presiding over the first day of the 8th session of the Parliament. (Photo: Sangay Kep)
Dharamshala: The speaker, Penpa Tsering, in his opening speech expressed gratitude to His Holiness the Dalai Lama for his blessing to humanity and for His Holiness's continuous effort for the cause of Tibet.
The speaker also expressed gratitude to those Tibetans in Tibet who in this critical period of Tibet are always standing up for the cause of Tibet.
Earlier, Tibetan Parliament members had been to the regional Tibetan settlements in India and in Nepal to enquire of the welfare of Tibetans have contributed to transparency and Democracy, added the speaker.
The session paid tribute to the three eminent persons who passed this year, former Tibetan Parliament member Gonshar Tashi Wangdue, United States Senator, Edward M.Kennedy and the Chief minister of Andhra Pradesh, Yeduguri Sandinti Rajasekhara Reddy by a minute's mourning.
The proceeding of the first day session includes presentation of annual work reports by all the departments of Central Tibetan Administration during the year 2008-09.
All the departments have completed the presentation of their respective annual reports.