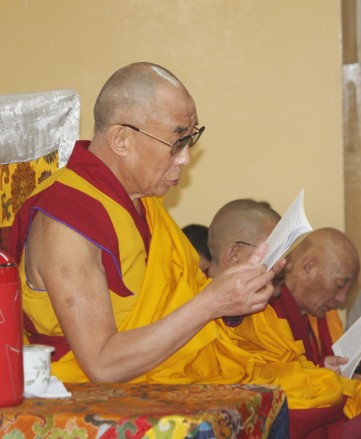 His Holiness the Dalai Lama led the third-week mass prayer for the Kyigudo earthquake victims. Photos / Tibet.Net
Dharamshala: His Holiness the Dalai Lama led the mass prayer today morning at Tsuglagkhang in Dharamsala to observe the third-week of the devastating earthquake that struck Kyigudo on April 14. The staff members of the Central Tibetan Administration, hundreds of monks, nuns, lay people, school children and foreign sympathisers took part in this solemn prayer session.
Kalon Tripa Prof. Samdhong Rinpoche briefed the congregation that all over the world, at every place where ever Tibetans reside, at 7:49 am local time Tibetans would observe a minute's silence to express our solidarity, to pray and to mourn the tragedy of Kyigudo. He informed that the death toll had reached more than the officially declared figure.
As the time struck 7.49 am Kalon Tripa called for a minute's silence by the congregation. Thereafter the prayer service was conducted for about 2 hours.
According to Xinhua news agency 2,220 Tibetans have been killed, more than 12,000 injured and hundreds have been reported missing and more than one lakh people rendered homeless by the violent earthquake.
It may be reported that Tibetans all over the world have done everything possible to share the suffering of the victims of the quake in Kyigudo. There have been prayers, mass campaign for donations and relief efforts, especially through "4-14 Yushu Earthquake Charity Committee" as per the directives of the Kashag.