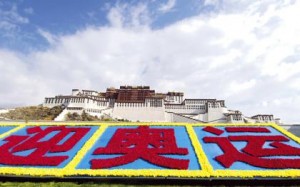 A flower-adorned billboard outside Lhasa's Potala Palace to celebrate the Beijing Olympics masks the troubled aftermath of anti-China protests held earlier this year. Photo: AP
Mary-Anne Toy in Gansu | TASHI, 10, is bent over a low wooden table, writing out homework in the flowing, Sanskrit-based Tibetan script now legally taught throughout Tibetan areas of China.
Watching him as dusk falls outside in this small village in Tibet is a 28-year-old visiting Tibetan who just a generation ago had to escape China through the perilous mountain passes of Nepal to have the education that Tashi (not his real name) now has by right.
Much has changed for the better for Tibetans since Mao Zedong ordered the People's Liberation Army to "liberate" the poor Himalayan country from the monk-led theocracy that had ruled it for centuries.
The room where Tashi is doing his homework now has electricity and a single energy-saving light bulb that must be tugged every 10 minutes to keep the power on. He has free education.
The family still have to cart water from a spring, and boil it on a stove fuelled by dried animal dung, but their courtyard home is clean and dry and there is a television and DVD player in the guest room – although the satellite reception is patchy.
SMH | Mary-Anne Toy in Gansu | Fear and loathing in a devout land | Link
The Age | Mary-Anne Toy in Gansu | Tibetans reveal climate of fear | Link