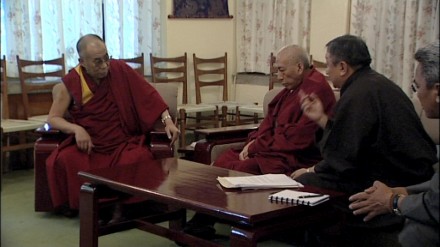 A still from Joshua Dugdale's film "The Unwinking Gaze' showing His Holiness the Dalai Lama (L) meeting with Kalon Tripa Prof Samdhong Rinpoche and two envoys in Dharamsala
Taipei: The Tibet Religious Foundation of His Holiness the Dalai Lama based in Taipei organised a three-day film screening and lecture series in collaboration with Taiwan National Chiao Tung University and Chinese-Tibetan Friendship Association of Taiwan from 11 – 13 May.
The event was held at Taiwan National Chiao Tung University. It featured riveting films on Tibet such as Tibet Stolen's Child, which recounts the disappearance of 6-year-old Gedhun Choekyi Nyima shortly after he was recognised in 1995 as the 11th Panchen Lama by His Holiness the Dalai Lama. Joshua Dugdale's 'The Unwinking Gaze – The Inside Story of the Dalai Lama's Struggle for Tibet' and 'Leaving Fear Behind' (Tib: Jigdrel) by Dhondup Wangchen, who brought the views of Tibetans living inside Tibet to the outside world in the runup to 2008 Olympic Games in Beijing, were also screened.
As part of the lecture series, His Holiness the Dalai Lama's Representative to Taiwan Mr. Dawa Tsering spoke about the essence of the Middle Way Approach, which strives to bring a mutually agreeable solution to the issue of Tibet within the framework of the Chinese constitution. Mr. Own Su Jei, former Secretary General of Taiwan Tibet Exchange Foundation, delivered talks on Tibetan Buddhism. Dr. Su Shan from Columbia University spoke on human civilization.
Secretary Mr.Sonam Dorjee also participated in a programme organised by Taiwan Ministry of Education and National Dong Hwa University in Hualian, during which a documentary tiled 'Escape from Tibet' was screened at Dong Hwa University on 18 May. Mr. Sonam Dorjee explained facts about the '17 Point Agreement' which the Tibetan government was coerced to sign by the government of People's Republic of China on 23 May 1951.
"Through organising such Tibet-related programmes in Taiwan," the organisers said, "they were encouraged to note the increasing number of university students taking great interest in learning about Tibet and its unique culture and religion."
–Report filed by Kalsang Lhundup, Tibet Religious Foundation of His Holiness the Dalai Lama in Taipei