Dharamshala: Sonamling Tibetan Settlement's camp no. 10 and 4, located near Choglamsar in Ladakh, have been badly affected by devastating floods which hit the region on Thursday night."We have sent urgent instruction to the settlement officer and concerned staff to take stock of the situation, and apprise the chief minister and local officials about the problems during their visits," Joint Secretary Tsering Topgyal said.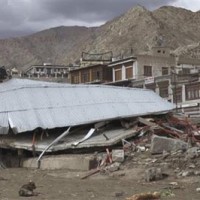 A collapsed building is seen after flash floods occurred in Leh/AP Photo
"There are unconfirmed media reports about death of three members of a Tibetan family among those killed around capital Leh,"he said
Tibetans will offer prayers for the victims at the main Buddhist temple Tsuglagkhang in Dharamsala on Sunday at 9:00 am.
"Fortunately, there has been no report of any Tibetan killed till date," a senior official of the Central Tibetan Administration's home department in Dharamsala said today.
"We directed our officials to get detail reports from each and every Tibetan family, and to use every available means of information like videos and photographs to apprise us of the situation. Plans are afoot to send staff from the head office to help in the relief effort," he added.
At least 115 people have been killed and over 500 others injured so far, media reports say.