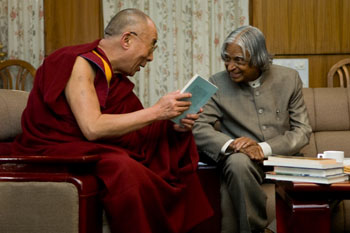 His Holiness the Dalai Lama and Dr APJ Abdul Kalam sharing their thoughts during a meeting at His Holiness's residence in Dharamshala, India, on 2 January 2009.
Dharamshala: Former President of India, Dr. APJ Abdul Kalam paid a courtesy call upon His Holiness the Dalai Lama at his residence in McLeod Ganj on 2 January.
His Holiness had earlier gone down to Gaggal airport to receive the former President and escort him to his residence.
The two mutual admirers of each other exchanged their thoughts with each other during the 45-minute meeting.
Kalon Tripa Prof Samdong Rinpoche was present at the airport to welcome the former president.
–Report filed by office of His Holiness the Dalai Lama