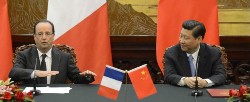 DHARAMSHALA, April 26: French President Francois Hollande, who on Thursday became the first western leader to meet China's new President Xi Jinping in Beijing, said his talks touched upon the issue of Tibet where as many as 117 known cases of self-immolations have occurred.
President Hollande told a press conference that during his talks with Chinese leaders he raised the issue of Tibet and human rights, with all topics discussed in a "frank and respectful manner."
Euronews quoted President Hollande as saying that the recent self-immolations "created some legitimate emotion."
"Regarding human rights and democratic principles, they are both part of the dialogue that we are having. It should not be seen as an obligation, we should simply put this issue as it should be: as part of frank and respectful political dialogue."
On April 24, two young monks from the Taktsang Lhamo Kirti Monastery in Zoege, eastern Tibet, became the latest Tibetans to set themselves on fire demanding freedom and the return of exiled Tibetan spiritual leader His Holiness the Dalai Lama.
Both Lobsang Dawa, 20 and Kunchok Woeser, 22 passed away in their fiery protests.
Prior to President Hollande's China visit, a survey by a leading French poll house showed that almost 70% of the French people wanted their president to raise the situation of Human Rights and civil liberties with his counterpart. Of that another 66% of the people polled wanted President Hollande to raise his concerns about the situation of Tibetans in China.
The same poll, carried out between April 16-18, showed that 94 per cent of the people deemed the present condition of human rights and civil liberties in Tibet as "unsatisfactory." More than 80 percent of the people polled further said that they feel "in solidarity with the Tibetans" and were in favour of the French President meeting with the Dalai Lama if he visits France.
From Beijing, the French president will travel to China's commercial hub of Shanghai before heading home late Friday.