DHARAMSHALA: Jadrel Jampa Trinley Rinpoche, the president of the 11th Panchen Lama's search committee, who remained missing after serving a six-year imprisonment since 2002 for allegedly disclosing secrets of the case to the outside world, has died at the age of 72, according to reports coming out of Tibet.
On 17 July 1995, he was taken into custody and sentenced to six years in prison when he rejected the Chinese government's plan to impose their own choice of the Panchen's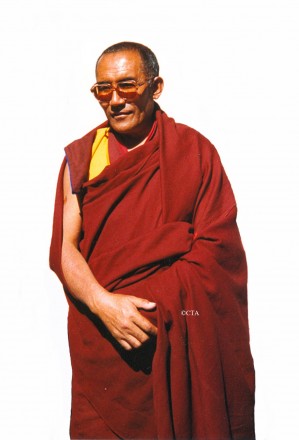 Jadrel Jampa Trinley Rinpoche/File Photo
Lama incarnation.
Jadrel Rinpoche served his jail term in Chuandong prison in China's Sichuan province from 1995 – 2002, during which he once sat on a hunger strike to protest the Chinese government's unjust verdict.
The Chinese government violated its own law by keeping Jadrel Rinpoche in secret detention even after the latter completed his prison term without committing any additional crimes. His whereabouts has remained unknown since the completion of his imprisonment in 2001/2002.
The report of Jadrel Rinpoche's death, apparently due to poisoning, was revealed in a tape by his close associate, who is a high official working in the Association of Tibetan Buddhism. The revelation has corroborated the fact of why his whereabouts remained unknown for nearly 10 years.
Jadrel Rinpoche was born in 1940 in Namling in Shigatse and he also served as the director of the Democratic Management Committee of Tashi Lhunpo Monastery, the traditional of the Panchen Lamas.
Last November, another senior Tibetan official of the search committee, Jampa Chungla, succumbed to his illness sustained after being denied medical assistance during the long period of incarceration and house arrest. Jampa Chungla's involvement in the search for Eleventh Panchen began in 1989 when he was appointed as the secretary-general of the committee headed by Jadrel Rinpoche. From 1990 he made great efforts in assisting Jadrel Rinpoche in the search process.
Gedhun Choekyi Nyima, the six-year-old boy identified by His Holiness the Dalai Lama as the 11th Panchen Lama, disappeared on 17 May 1995, two months before the arrest of Jadrel Rinpoche. The Chinese government later admitted to holding the boy and his family in "protective custody".
Despite repeated appeals to gain access to the boy, no international agency or human rights organisation has been granted contact with the young Panchen Lama or his family. To date, their well-being and whereabouts remain unconfirmed.