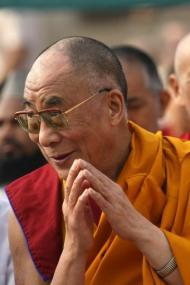 NEW DELHI: Tibetan spiritual leader Dalai Lama on Saturday appealed to the world community to "please help" resolve the crisis in his homeland that has been rocked by deadly anti-Chinese protests.
"We have no power except justice, truth, sincerity… that is why I appeal to the world community to please help," the Buddhist icon told a news conference in the Indian capital, where he was conducting meditation sessions.
"I am here helpless, I just pray," said the exiled spiritual leader two weeks after anti-Chinese protests in the Himalayan region turned bloody, leading to calls for a boycott of the August Beijing Olympic Games.
phayul.com | Link