Dharamshala: In a letter issued from the office of His Holiness the Dalai Lama, His Holiness has called on the speaker and deputy speaker of the Tibetan Parliament, and the Kashag, to convene an emergency general meeting to discuss the fundamental issues of Tibet.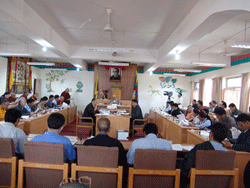 A session of the Tibetan Parliament on Saturday, 12 September 2008.
His Holiness said considering the recent crisis inside Tibet and the situation in the world in general, the emergency general meeting would be held under the article 59 of the Charter of the Tibetans-in-Exile.
His Holiness said the meeting would be held in November and December this year.
The composition of the representatives for the meeting shall include the members of the Tibetan Parliament and others appointed on its behalf; the Kashag shall jointly decide, in consultation with the Tibetan Parliament or the Standing Committee of the Parliament.
After reading out the letter, Speaker Karma Chophel said since the Parliament is in session, a draft proposal will be formulated and tabled in the house for discussion on Monday.