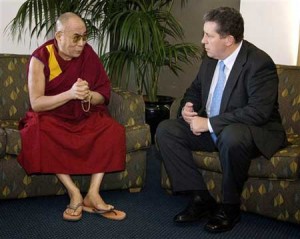 His Holiness the Dalai Lama, talks with Australia's acting leader Sen. Chris Evans in Sydney, Australia, Friday, June 13, 2008. (AP Photo/Dalai Lama official, Rusty Stewart, HO)
Sydney: Australia's acting prime minister Chris Evans held a low-key meeting with His Holiness the Dalai Lama on Friday despite a warning from Beijing of its strong opposition to any support for the Tibetan spiritual leader.
Senator Chris Evans met His Holiness the Dalai Lama in a hotel in Sydney, where His Holiness is conducting a series of meditation seminars.
In Sydney, His Holiness the Dalai Lama reiterated his call for "meaningful autonomy" for Tibet, saying he supported China's desire for a stable society and hoped talks talks between his envoys and Chinese officials will resume soon, possibly next month.
"Stability and unity must come from the heart, not the gun," His Holiness told reporters on Thursday. His Holiness the Dalai Lama has called his visit to Australia, a spiritual not political tour.
He has met federal Opposition Leader Brendan Nelson this week, as well as Greens leader Bob Brown and is scheduled to meet with Foreign Minister Stephen Smith.
Prime Minister Rudd, away this week on a visit to Japan and Indonesia, said he would have gladly met with the Dalai Lama had he been in Australia.
–AFP