Bodh Gaya, His Holiness the Dalai Lama initiated the Kalachakra Teaching today at Kalachakra Ground at around 01.00 in the afternoon.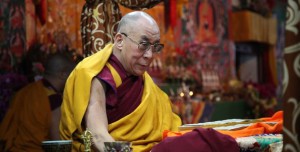 His Holiness the Dalai Lama on the first day of the Kalachakra Teaching at Bodh Gaya (Photo: Sangay Kyap
First day of the teaching witnesses an unexpected rain whole day. Despite that, thousands of monks and common people braved the wet weather, and had crowded the ground since morning to attend His Holiness' teaching. The devotion and the spirit of masses are at peak.
 During the teaching, His Holiness the Dalai Lama greeted New Year 2012.
 His Holiness will give Kalachakra Initiation from January 01-09, 2012, which will be concluded with a Long Life Empowerment for public and a Long Life Ceremony for His Holiness the Dalai Lama the following day.
 Kalachakra Organizing Committee arranged simultaneous translation of 16 different languages. Tibetonline.tv and www.dalailama.com shows live telecast of whole teaching at its scheduled time.
 This is the 32nd Kalachakra Initiation conducted by His Holiness the Dalai Lama. For schedules and informations on the current Kalachakra Initiation, visit www.kalachakra2012.org.