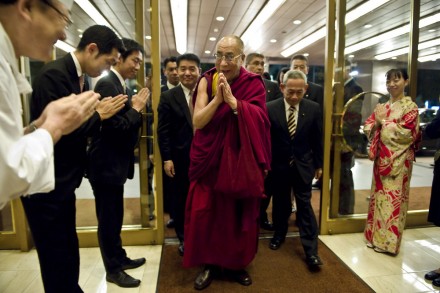 His Holiness the Dalai Lama (C) arrives at the Royal Park Hotel, Tokyo flanked by Lhakpa Tsokho (R) and Makino Seishu (L)/Photos by Tenzin Choejor
Tokyo, Japan: His Holiness the Dalai Lama arrived in Japan this afternoon for a nine-day visit at the invitation of Shikoku Buddhist Association and Okinawa Mahabodhi Association.
His Holiness was received at Tokyo's Narita airport by Lhakpa Tshoko, Representative of His Holiness the Dalai Lama for Japan and East Asia, along with a varied group of people of Japanese, Chinese, Mongolian and Tibetan origins.
His Holiness will be in Japan from 30 October – 7 November.
On his arrival at the Royal Park Hotel, His Holiness was received by Makino Seishu, Member of Parliament and a long-time friend of Tibet. Inside the hotel, Japanese supporters, Indian students, western tourists and Chinese and Taiwanese businessmen lined-up to seek His Holiness's blessings.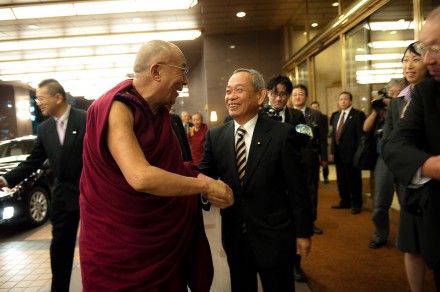 Makino Seishu (R) Member of Parliament, greets His Holiness the Dalai Lama (L) outside the Royal Park Hotel.
During the visit, His Holiness will give teachings, hold dialogues with scientists and interact widely with the public. His Holiness is also expected to travel outside the capital city of Tokyo.
"Japanese people love and admire His Holiness a lot," said Satsuki, a Japanese supporter outside the hotel. "I am happy that our government has welcomed His Holiness on many occasions despite strong objection from the Chinese government," she said.
This is Holiness's 12th visit to Japan, the earliest being in 1967 when His Holiness, for the first time travelled outside his exile home of India.
-Report filed by Sherab Woeser, Editor of Tibetan Bulletin