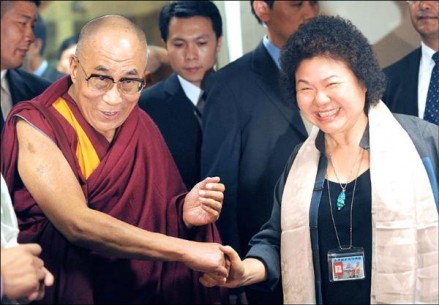 Chen Chu, the mayor of Kaohsiung County, (R) greets His Holiness the Dalai Lama on his arrival in Taiwan on Sunday, 30 August 2009/The Liberty Times
Dharamshala: His Holiness the Dalai Lama has arrived in Taiwan for a six-day visit aimed to comfort victims of the island's worst typhoon in 50 years which struck this month, triggering floods that killed more than 600 people. His Holiness was invited by the heads of seven southern Taiwan cities and counties.
His Holiness was received by his representative and large of Buddhist followers after landing in Taipei on Sunday. Some demonstrators, holding the national flag of China, shouted slogans at the airport to politicise His Holiness's visit.
"I'm a monk. I was asked to say prayers for peace," His Holiness told reporters at Taoyuan International Airport.
"There is no politics. This is humanitarian in nature," His Holiness added.
His Holiness is scheduled to visit Siaolin Village in Kaohsiung County to pray for victims of Typhoon Morakot Monday morning. Siaolin was one of the villages that suffered the worst devastation in the storm earlier this month. Some 400 Siaolin residents were believed to have been buried alive under a massive landslide triggered by Morakot's torrential rains.
His Holiness will also deliver a sermon and preside over a prayer ceremony at Kaohsiung Arena for typhoon victims on 1 September and meet with Cardinal Shan Kuo-hsi of the Roman Catholic Church at a Kaohsiung hotel on 2 September.
His Holiness said at New Delhi Indira Gandhi International Airport before flying to Taiwan that his visit was strictly non-political and a "moral responsibility" after a massive storm devastated the island.
"I'm very, very strict, (the trip is of a) non-political nature," His Holiness said in television footage shown by TVBS cable news channel.
His Holiness further said he believes his visit will not affect relations across the Taiwan Strait.
The Tibetans living in exile also organised special prayer congregations to mourn those who died and pray for the speedy recovery of those injured.