Vancouver, Canada: His Holiness the Dalai Lama arrived in Vancouver airport Saturday afternoon and was received by Mr. Victor Chan of the Dalai Lama Center for Peace and Education, and by Mr. Ngawang Garie of the Tibetan Association of British Columbia, and Mr. Dermod Travis of the Canada Tibet Committee. Members of the Tibetan community and friends of Tibet, including Kasur T.C. Tethong, were at the hotel to receive His Holiness.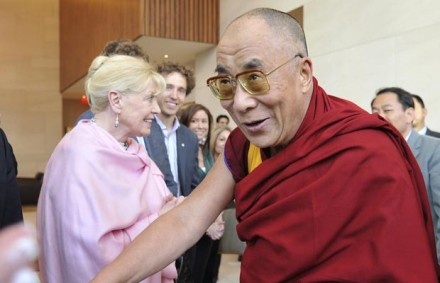 His Holiness the Dalai Lama greets supporters in downtown Vancouver Saturday afternoon. Photograph by: Jenelle Schneider, Vancouver Sun
During his four day stay in Vancouver, His Holiness will be participating in the Vancouver Peace Summit and other events organized by the Dalai Lama Center for Peace and Education.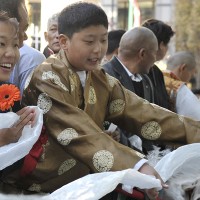 Tibetans welcome His Holiness the Dalai Lama on his arrival in Vancouver on 26 September
Nobel Laureates and other prominent individuals are scheduled to participate in these events.
The Summit will feature four webcast dialogues: World Peace through Personal Peace, Nobel Laureates in Dialogue: Connecting for Peace, Educating the Heart, and Women and Peace-building.
The dialogues will feature Nobel Laureates: His Holiness the Dalai Lama, Jody Williams, Betty Williams, Mairead Maguire and Murray Gell-Mann. Victor Chan, the Dalai Lama Center's Founding Director, has dubbed them a veritable "dream team". Plus Matthieu Ricard, Mary Robinson, Eckhart Tolle and Maria Shriver.
The peace summit proceedings on September 27 and 28 will be webcast on dalailamacenter.org.
Earlier in the morning, His Holiness began his third day's stay in Long Beach, California, with a question and answer session. He responded to spiritual questions like how should one prepare oneself at the time of death. He said that it depended on one's spiritual disposition. He said if one was a believer in God the creator then the individual could take this as yet another creation of God and that there must be a meaning behind this.
His Holiness gave the layman's ordination vows, the Bodhicitta empowerment followed by the medicinal Buddha empowerment.
At the conclusion, a representative of Geden Shoeling Center, the host organization, gave a brief report, including financial statement relating to the visit. She also mentioned making an offering to His Holiness. His Holiness, however, said that it was his tradition not to accept any such offerings and instead asked them to use it to develop the Center.
After lunch, His Holiness left Long Beach for Vancouver in Canada. His Holiness was seen off at the airport by North American Tibetan Parliamentarians Tenzing Chonden, Khensur Lobsang Jamyang of Geden Shoeling Center and others.
–Report filed by Mr Bhuchung K. Tsering of ICT