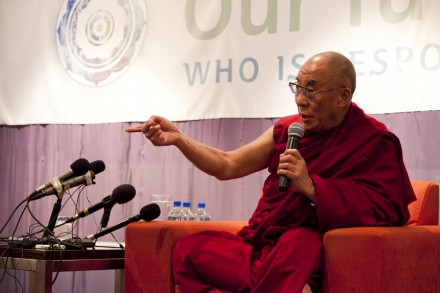 His Holiness the Dalai Lama begins an eleven-day visit to Australia and New Zealand with a talk on 'Our Future: Who Is Responsible?'in Sydney on Monday, 30 November 2009. Photo by Jamie Williams
Sydney:
His Holiness the Dalai Lama arrived in Sydney this morning at the start of an eleven-day visit to Australia and New Zealand.
The visit, which carries the theme "Our Future: Who is Responsible?" will see His Holiness give a two-day teaching in Sydney on "Awakening the Mind", public talks in Sydney, Auckland, Hobart and Melbourne, attend a conference on "Mind and its Potential" with some of the world's top neuroscientists and give the closing address at the Parliament of the World's Religions in Melbourne. The visit also coincides with the 20th anniversary of the conferment of Nobel peace prize on His Holiness the Dalai Lama on 10 December.
His Holiness received a warm welcome at Sydney airport from members of Australia's 600-strong Tibetan community and was later greeted at his hotel with a traditional Tibetan performance.
At a packed midday press conference His Holiness outlined his two lifelong objectives -promoting human values and promoting religious harmony – and underlined the interdependence of all humans with each other and with the environment.
Asked about global warming and the upcoming UN Climate Summit in Copenhagen, His Holiness talked at length about our responsibility to the global environment and to future generations. Referring to Tibet as the earth's "third pole", His Holiness also explained why the Tibetan environment is crucial to the wellbeing of more than a billion people in Asia, noting that the Indus, Ganges, Mekong, Yellow, Yangtze and other of Asia's great rivers all begin in Tibet. His Holiness said that protection of the global environment must take precedence over matters of national interest and that politicians must make finding a solution to climate change their number one priority.
"Sometimes their number one importance is national interest, national economic interest, then global issue is sometimes second. That I think should change. The global issue, it should be number one."
His Holiness said he was encouraged that world leaders have started taking the issue of climate change more seriously but did not pre-empt the outcome of the Copenhagen summit.
During the hour-long conference His Holiness also spoke of the importance of a free and objective media to a healthy, democratic society. He encouraged members of the press to help educate the public by always investigating thoroughly and looking behind surface appearances. Asked whether he would like to return to Tibet, His Holiness, while recognising the problems this would currently pose to the Chinese Government, reiterated that he was ready to do so as soon as he was given a green signal.
Finally, asked for a message to the youth representatives attending the Parliament of the World's Religions in Melbourne next week, His Holiness emphasized the critical role for today's youth in shaping the 21st century and encouraged them to think with a holistic and long-term perspective.
Tomorrow His Holiness begins his two-day teaching in Sydney on Nagarjuna's Commentary on Bodhicitta.
–Report filed by Dr. Simon Bradshaw, Campaign Coordinator, Australia Tibet Council