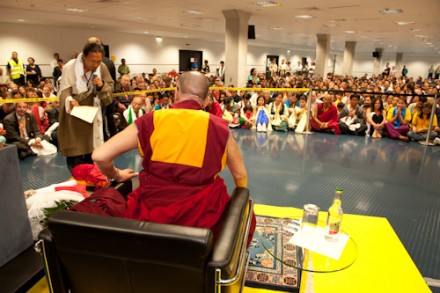 His Holiness the Dalai Lama addressing a gathering of around 450 Tibetans and 50 German volunteers of Tibet Support Groups in Frankfurt,Germany, on 1 August 2009
Frankfurt, Germany: Addressing the members of the German Tibet support groups in Frankfurt on Saturday afternoon, His Holiness the Dalai Lama expressed his deepest gratitude for their support for the Tibetan cause.
The members of the German Tibetan Community and some 50 volunteers of the various Tibet support groups based in Germany attended the talk.
At the same time His Holiness conveyed his great concern for Tibet's deteriorating environment.
His Holiness said that Tibet was passing through a very difficult time in our history and over 1 million Tibetans have died.
His Holiness further said that there has been an increase in contacts with ordinary Chinese over the years. There have been about 680 articles written on Tibet by Chinese mostly expressing their concern and support for the Middle Way Approach. Over 100 of these articles were written by Chinese living inside China.
Earlier in the day, His Holiness the Dalai Lama took part in two different symposiums on the theme "One World – One Mind – One Heart".
The morning symposium was a dialogue with three scientists and prominent personalities on global and personal responsibilities with Prof. Dr Mojib Latif, Prof. Dr. Karl-Heínz Brodbeck and Prof Götz Werner. The afternoon symposium on Ethics and the Economy and global responsibility with Prof. Dr. Tania Singer, Ven. Matthieu Ricard and Prof. Gerald Hüther. The moderator for the symposiums was Mr. Gert Scobel, a respected journalist on culture and religion in Germany.
In his address, His Holiness said "The concept of we and they are now outdate. We must think of everyone as part of ourselves."
While speaking on developing compassion, His Holiness said, "something I know for sure through my own experience is that cultivating universal love and compassion is not only crucial for mental peace but it is also good for one's own physical health."
"Destructive emotions like hatred, jealousy and extreme attachments not only destroy one's peace of mind, but these are harmful for one's physical health," His Holiness added.