Dharamshala: Gracing the fiftieth founding anniversary of the Tibetan Children's Village School yesterday, His Holiness the Dalai Lama "urged all the past and present students to remember and preserve their Tibetan identity". He urged the school administration not to give in to negligence and complacency, and to strengthen their efforts to make further progress
.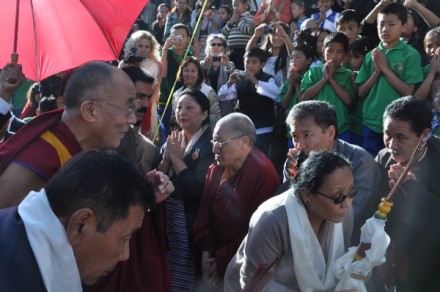 His Holiness the Dalai Lama being welcomed upon his arrival at TCV school to grace its golden jubilee celebration in Dharamsala on 31 October 2010
 "For the students, past and present, of TCV here in Dharamsala and elsewhere in India, I urge you to remember and preserve your Tibetan identity, while at the same time keeping in mind that your education has prepared you to be participating citizens of the twenty-first century," His Holiness the Dalai Lama said in a message. 
His Holiness underlined the importance of giving proper guidance and encouragement to the children. "Giving children a sound education has far reaching effects as childhood is a time of learning and training in preparation for life ahead. We human beings are naturally intelligent and children, unburdened by other obligations, have some freedom and flexibility of thought and action. However, that natural freedom and intelligence will only become fruitful if given proper guidance and encouragement," His Holiness said. 
His Holiness said teachers should have positive human values such as warmheartedness. "If a student in addition to receiving a good intellectual education happens to have teachers with a warm heart, and a sense of responsibility for both caring and discipline, he or she tends to grow into a more fulfilled adult. Children who receive this kind of education have a chance not only to improve themselves as individuals but to contribute to the development of society as a whole. In the pursuit of genuine happiness, positive human values are essential. TCV's motto – Others before Self – aptly expresses this," His Holiness said. 
Speaking of negligence of the school administration resulting in the food poisoning incident in Lower TCV school, His Holiness strongly urged the school administration to take special care in maintaining proper cleanliness and providing hygienic food to the children. 
TCV began to function as Nursery for Tibetan Refugee Children on 17 May 1960, a year after the arrival of His Holiness the Dalai Lama and thousands of Tibetans in India from Tibet following brutal repression by the government of People's Republic of China.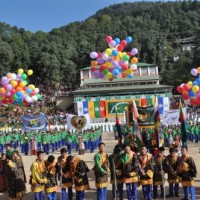 flash3110102971
 "The Indian government rented us two empty bungalows for the purpose near my present home at Dharamsala and I appointed my elder sister, Tsering Dolma, to run it. The result was overwhelming – for almost before we knew where we were – over 800 tiny children has been placed in our care within months. My sister and her voluntary helpers had to improvise the barest necessities of life of this enormous family. This, the Tibetan Refugee Nursery, was the beginning of TCV. Since then it has grown from strength to strength," His Holiness said.
After the sad demise of Mrs Tsering Dolma in 1964, His Holiness the Dalai Lama's younger sister Mrs Jetsun Pema took over the responsibility to look after the day to day school's management.
Today, TCV takes care of over 16,000 children in fraternities extending from Ladakh in the North to Bylakuppe in the South. It established The Dalai Lama Institute for Higher Education in Bangalore as part of its efforts to tackle challenges in the field of higher education in specialised studies.
 "Over the last half a century, TCV has received generous help and support from many quarters and I would like to take this opportunity to thank the staff and teachers and all our friends for the invaluable contributions they have made," His Holiness said.
In his message, TCV President Mr Tsewang Yeshi expressed gratitude to the government and people of India for their unwavering support and sympathetic understanding. He also thanked friends and supporters around the world, especially SOS-Kinderdorf International for their continued financial help.