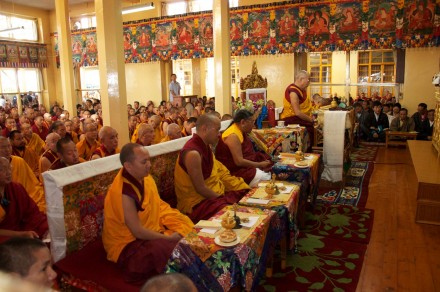 His Holiness the Dalai Lama presides over a special prayer service at the main temple in Dharamsala, India,
DHARAMSHALA: His Holiness the Dalai Lama today joined heads and representatives of the four schools of Tibetan Buddhism and Bon religion for a special prayer service at the main temple, offering prayers to all those Tibetans who sacrificed their lives for Tibet's cause and to mitigate sufferings of those undergoing inhuman imprisonments and torture under the Chinese government's repressive rule.
Prayers were also offered in memory of late His Eminence Kyabje Trulshig Rinpoche, the head of Nyingma School of Tibetan Buddhism and late Mr Juchen Thupten Namgyal, former Kalon Tripa and Speaker of the Tibetan Parliament in Exile.
Around 2,000 people attended the prayer service, which was organised by the Central Tibetan Administration's Department of Religion and Culture.
The entire officials and staff of the administration attended the service.