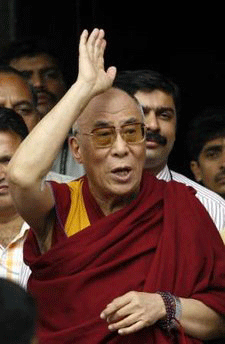 His Holiness the Dalai Lama leaves Lilavati hospital in Mumbai, on Monday morning, 1 September 2008, smiling and waving to waiting photographers. REUTERS/Punit Paranjpe (INDIA)
Dharamshala: His Holiness the Dalai Lama left hospital in Mumbai on Monday morning, smiling and waving, after undergoing some routine medical tests, news agency reuters reported.
The doctors attributed the discomfort to fatigue and have assured that there is no cause of concern.
Mr Chhime Rigzin Chhoekyapa, private secretary to His Holiness the Dalai Lama, said "His Holiness is feeling good and he will be resting for the next few days."
His Holiness joined from Mumbai in the 12-hour fasting and prayers for peace and freedom organized in Dharamsala and all around the world, on Saturday, 30 August, by the Tibetan Solidarity Committee.