Miami: On October 21, 2010, His Holiness the Dalai Lama received an honorary degree, an international leadership award, and gave a major public talk to 10,000 people in Miami University, located in Oxford in the state of Ohio.
In the morning Miami University held a special function in its Hall Auditorium to honor His Holiness the Dalai Lama with an honorary degree of Doctor of Law in front of an invited gathering of over 500 students, faculty and their guests.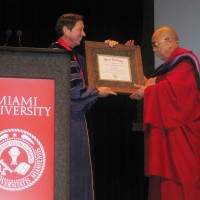 Miami University confers an honorary degree of Doctor of Law on His Holiness the Dalai Lama on
Dr. David C. Hodge, President of Miami University, made a welcome remark in which he talked about its partnership with the Tibetan Institute of Buddhist Dialectics. He said, "We are honored to welcome his Holiness the 14th Dalai Lama to Miami University and recognize his struggle to promote cultural understanding." He also gave an introduction to His Holiness' educational qualification listing all the subjects that had been studied. He then invited His Holiness to receive the degree saying,
"In recognition of your persistent nonviolent struggle to preserve the cultural rights of the people of Tibet; to explain the basic tenets of Buddhism to the world; to promote a greater understanding of our collective obligations to one another; to honor your receipt of the Nobel Peace Prize, the U.S. Congressional Gold Medal, and countless other awards and recognitions from all over the world; and to extend our appreciation for the opportunity afforded to Miami faculty, staff and students through our relationship with the Institute for Buddhist Dialectics, it is now my distinct privilege, on behalf of the Board of Trustees of Miami University, to award to you on this day, October 21, 2010, an honorary Doctor of Law degree from Miami University. Congratulations."
Thereafter, Mr. Harry Wilks, member of the Board of Trustees of Miami University, was invited to the stage. He had helped establish the Wilks Leadership Institute in Miami University to advance "the understanding and practice of the types of engaged leadership necessary for building a vibrant democratic society today and in the future."
Mr. Wilks presented the Leadership award saying, "Your Holiness, throughout history there have been a few individuals who have tried to bring compassion, peace and understanding to mankind.  We have all heard, in our life time, of Mahatma Gandhi, Martin Luther King and Nelson Mandela, who have used nonviolence to achieve their aims. Today, we want to honor a man who has tried to bring peace, compassion and understanding between the various races, cultures and religions.