Dharamshala: His Holiness the Dalai Lama returned to Dharamshala today from a 21-day visit to Manali and Mangaluru. Speaker Pema Jungney, Kalon Karma Yeshi, Department of Finance, CTA and representatives of various Tibetan NGOs welcomed His Holiness at Kangra airport near Dharamshala.
During the visit spanning over 3 weeks, His Holiness gave teachings on 'Eight Verses for Training the Mind', the '37 Practices of Bodhisattvas' and Nagarjuna's 'Commentary on Generating the Awakening Mind of Bodhichitta' on 13 and 14 August in Manali. On 17 August, His Holiness gave the empowerment of Mahakarunika Lokeshvara and read the 'Eight Verses for Training the Mind' and 'The 37 Practices of Bodhisattvas'. The teachings were requested by the Von Ngari Monastery based in Manali.
His Holiness also met with a number of dignitaries including former Chief Minister of Himachal Pradesh, Prof Prem Kumar Dhumal, Chief Justice V Ramasubramanian and Justice Dharam Chand Chaudhary of the Himachal Pradesh High Court.
After a two-day halt in Delhi, His Holiness proceeded to Mangaluru on his maiden visit. On 30 August, His Holiness delivered the keynote address at the 52nd National Convention of the All India Association of Catholic Schools as its chief guest.
1000 strong audience including Catholic school heads and 150 students from the Himalayan Region as well as Catholic educationists converged at the Father Muller Convention Centre to receive the teachings on secular ethics, religious harmony and humanity from His Holiness the Dalai Lama.
His Holiness' upcoming schedule include at three-day teachings from 4 to 6 September at Tsuglagkhang on The Four Noble Truths and their Sixteen Characteristics (denpa shi, mitak sok chudruk) & The Thirty-Seven Factors of Enlightenment (jangchok sodun) as well as Nagarjuna's Commentary on Bodhicitta (jangchup semdrel) at the request of a group from Asia.
On 13 September, His Holiness will attend a Long Life prayer offering organized by five groups at Tsuglagkhang.
His Holiness the Dalai Lama is being received by Speaker Pema Jungney and Kalon Karma Yeshi on His Holiness' arrival at Gaggal airport, 1 September 2019. Photo/Tenzin Jigme/CTA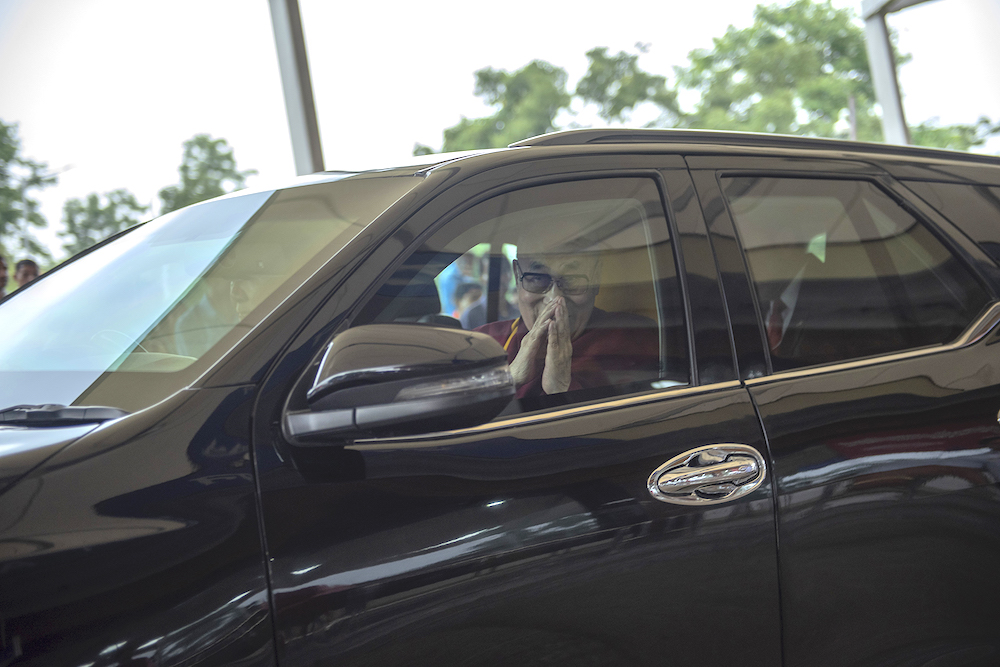 His Holiness the Dalai Lama returns safely to Dharamshala post Manali and Mangaluru visit, 1 September 2019. Photo/Tenzin Jigme/CTA
Devotees and followers with traditional offerings of Tibetan scarf await for a glimpse of His Holiness the Dalai Lama at Gaggal airport, 1 September 2019. Photo/Tenzin Jigme/CTA