Amritsar: A globally revered figure and Nobel peace laureate, His Holiness the Dalai Lama today presided over an interfaith conference titled "The ik-noor Interfaith Conclave" at Guru Nanak Dev University in Amritsar. The 'Ik Noor Inter-Faith Conclave' is part of a week-long celebrations of the 550th birth anniversary of the first Sikh Guru, Guru Nanak Dev, organized by the Punjab Government.
Earlier in the morning His Holiness the Dalai Lama took a pilgrimage to the Golden Temple, holiest site of Sikh and on entering the main temple His Holiness the Dalai Lama paid homage inside the temple where all the hymns are read from the Guru Granth Sahib Ji and offered a traditional Tibetan scarf. His Holiness the Dalai Lama met with the members and representatives of the Golden Temple. They offered a shawl and a souvenir of Golden Temple to His Holiness.
The conference was held in the presence of Finance Minister of Punjab, Honourable Manpreet Singh Badal. He delivered an address on behalf of the Punjab Government.
The interfaith dialogue was chaired by leaders of different faiths including Swami Shuddhidananda, Ramakrishna Mission, Maulana Syed Athar Hussain Dehlavi, Founder of Anjumana Minhaj-e-Rasool, Giani Joginder Singh Vedanti, Former Jathedar Sri Akal Takht Sahib, Bishop Samantha Roy, Church of North India, B.K Usha, Brahma Kumari, Syed of Ahmadiya Mission and Dr Monica Gupta, Shri Aurobindo Mission. Vice Chancellor of the University also marked his presence.Professors, teachers, staff and students of Guru Nanak Dev University attended the conference in the audience.
His Holiness the Dalai Lama having Prasad offered on the way out from the main temple at Golden Temple, Amritsar. Photo/OHHDL
His Holiness the Dalai Lama delivered remarks on 'Oneness of humanity and religious harmony' touching upon the four major commitments at the conference.
"I really believe and also practice oneness of entire 7 billion human being. As a buddhist monk and practitioner, entire seven billion human beings are our mother and therefore we say mother sentient being. so we truly seven billion human being are brothers and sisters," His Holiness said.
His Holiness iterated that all human beings are same mentally, emotionally and physically thus highlighting the importance of developing the spirit of oneness.
"We were born the same way but gradually we make lot of distinction including within the faiths which creates strong feeling of we and they. Basically we are same but we emphasis too much on the second level of differences and there are Killings and wars based on the concept of we and they. Religious faith is also causing difficulties and killing. At this very moment where we enjoy peace and tranquillity, at the same moment and on this same earth at some places including some middle east countries there are killings and war going on. All these problems are our own creation."
Speaking on the first commitment, His Holiness said "According to some scientists, basic human nature is compassionate because we are social animals. Individual survival is dependent on community without which one cannot survive. Very basis of our existence and our survival depends on the community. Today's world from east to west, north to south, Entire world is one human community. So now we need sense of oneness of seven billion human being. So therefore I am fully committed to promote sense of oneness of 7 billion human being,"
His Holiness noted that we are all social animal who have the seed of compassion within and said that the mistake lies in the existing modern education system which is introduced by the britishers. In the west where mainly theistic religion is followed, they believe in God where there is no tradition of training of mind.
His Holiness the Dalai Lama and other faith leaders paying homage to Guru Nanak Dev Ji on the occasion of the 550th Birth Anniversary. Photo/Tenzin Phende/CTA
Hailing the concept of Ahimsa and Karuna of India, His Holiness the Dalai Lama expressed the need of combining the modern education with Shamatha, Ancient Indian Tradition about training of mind and Karuna, warmheartedness with human intelligence in order to develop inner strength and inner peace.
His Holiness added that peace should be developed at the individual level so to be able to share with others and not to only think about money as you will be able share only money with other people.
"India's tradition of Ahimsa and Karuna is very relevant which is the means to promote the basic human values for warm-heartness and that too through secular way". His Holiness informed the need of hygiene of emotion with the hygiene of physical that is provided in the schools.
His Holiness expressed the need to include the concept of Ahimsa and Karuna as academic subjects from kindergarten to University level which will lead to a happy individual, happy family, happy community and eventually a happy humanity.
"I am 84 year old person. I had difficult life, lot of obstacles but because of thousand year old india tradition i can keep my peace of mind. Practice of Karuna and Ahimsa is very useful. These thousand year old Indian tradition is very helpful in day to day life for peace," His Holiness said.
"Modern Indian neglect these things so I want to urge to pay attention. Modern India consist of too much materialistic education and materialistic thinking which is necessary but materialistic life will not bring inner peace. India has great potential to world to bring peace, forgiveness and tolerance based on karuna. india is the only nation which can combine Ancient Indian Knowledge which brings inner peace and modern education which brings materialistic development. therefore Indian brothers and sisters must pay attention to Ancient Indian Knowledge"
His Holiness the Dalai Lama launching a book during the interfaith meeting at Guru Nanak Dev University, Amritsar on 9 November 2019. Photo/Tenzin Phende/CTA
Speaking on the second commitment, His Holiness the Dalai Lama hailed the Religious Harmony of India and expressed admiration to Guru Nanak on this special occasion dedicated to him.
His Holiness particularly commended on the visit that Guru Nanak had paid to Mecca despite belonging to another background which proves religious harmony. His Holiness further commended Sikhism for not following caste system.
Speaking from the religion point of view, His Holiness said that there are differences in religious philosophies according to different mental dispositions however all the major religious tradition convey the same message of love and kindness.
Hence, advised genuine mutual respect mutual learning within the major religions as he implored it necessary and pertinent in today's world.

His Holiness the Dalai Lama expressed the need pay attention on Environment as global warming has become a serious issue. So His Holiness expressed the need to include deforestation and other steps for improving the environment under the concept of Ahimsa. His Holiness advised to minimise the exploitation of environment and to take care of it. HIs Holiness further added that as requested by a late friend to talk on forest, he is fulfilling the responsibility passed onto him.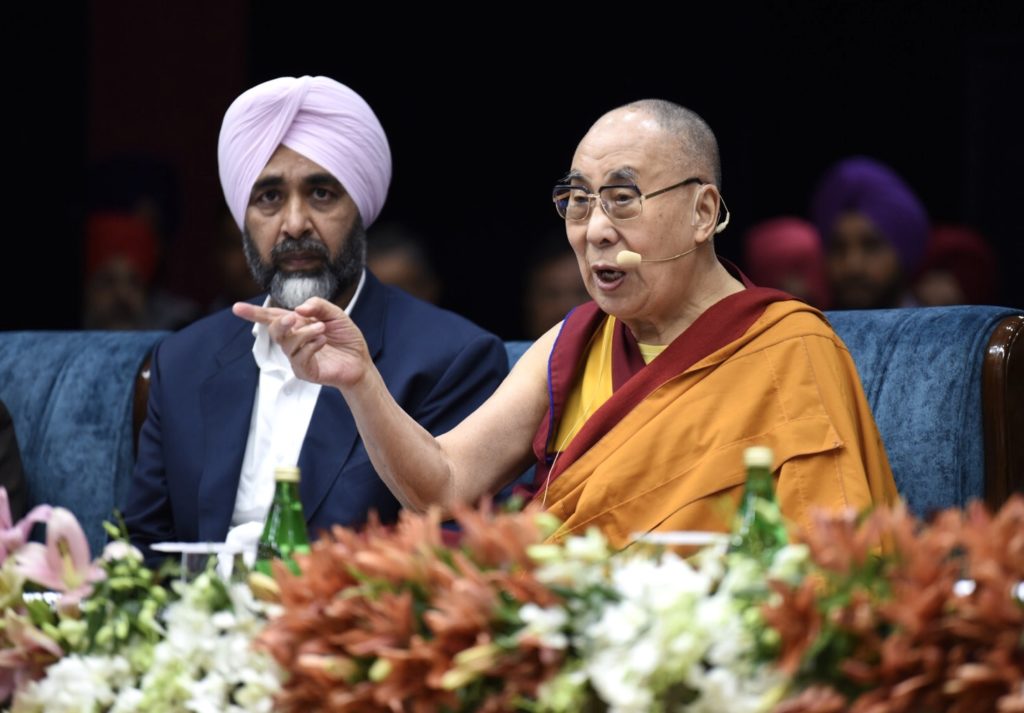 His Holiness the Dalai Lama delivering his key address on 'Oneness' at the interfaith conference held at GNDU, Amritsar on 9 November 2019. Photo/Tenzin Phende/CTA
On the third commitment, His Holiness the Dalai Lama noted that since Tibetans have their trust in him, he has the moral responsibility whereas he has retired from the political responsibility in 2001. His Holiness said that his main responsibility lies in Tibet's ecology which has been too exploited. His Holiness also expressed his responsibility to preserve the Tibetan culture and knowledge which originally came from Indian in 8th Century. His Holiness further informed the gathering about how buddhist tradition was brought to Tibet from India particularly the Nalanda Tradition and spoke about the essence of Nalanda Tradition.
"For more than thousand years we have kept this knowledge. Our tradition is very useful to the humanity therefore, I really try to keep ancient Tibetan knowledge which originally comes from Nalanda Tradition." His Holiness said
Coming to the last commitment which is the revival of ancient indian knowledge in modern india. His Holiness reiterated that in Modern India, education is more materialistic oriented which is important but not sufficient.
His Holiness asserted that the practice of Nalanda Tradition is helpful in keeping the peace of mind and hygiene of Physical health too.
Lastly, His Holiness the Dalai Lama appreciated the organisers for this meeting on the 550th birth anniversary of Guru Nanak Sahib. His Holiness promised to keep the ancient Indian Knowledge for the rest of his life.
All the faith leaders delivered the overarching message of peace, religious harmony, love and unity.
His Holiness the Dalai Lama had lunch with the faith leaders and left for Dharamshala this afternoon.
His Holiness the Dalai Lama making his way out from the main shrine of Golden Temple. Photo/OHHDL
His Holiness the Dalai Lama delivering his key address on 'Oneness' at the interfaith conference held at GNDU, Amritsar on 9 November 2019. Photo/Tenzin Phende/CTA
His Holiness the Dalai Lama shares a cheerful moment with the Finance Minister of Punjab Honourable Manpreet Singh Badal during the conference at GNDU, Amritsar on 9 November 2019. Photo/Tenzin Phende/CTA
Finance Minister of Punjab Honourable Manpreet Singh Badal delivering his key address at GNDU, Amritsar. Photo/Tenzin Phende/CTA
Swami Shuddhidananda of Ramakrishna Mission delivering his key address at the Interfaith conference marking the 550th birth anniversary of Guru Nanak Dev Ji on 9 November 2019. Photo/Tenzin Phende/CTA
Hussain Dehlavi,Founder of Anjumana Minhaj-e-Rasool delivering his key address at the Interfaith conference marking the 550th birth anniversary of Guru Nanak Dev Ji on 9 November 2019. Photo/Tenzin Phende/CTA
Bishop Samantha Roy, Church of North India, delivering his key address at the Interfaith conference marking the 550th birth anniversary of Guru Nanak Dev Ji on 9 November 2019. Photo/Tenzin Phende/CTA
Syed of Ahmadiya Mission delivering his key address at the Interfaith conference marking the 550th birth anniversary of Guru Nanak Dev Ji on 9 November 2019. Photo/Tenzin Phende/CTA
Dr Monica Gupta, Shri Aurobindo Mission delivering her key address at the Interfaith conference marking the 550th birth anniversary of Guru Nanak Dev Ji on 9 November 2019. Photo/Tenzin Phende/CTA
Members of audience present in the auditorium listening to the speakers of the Interfaith Conference at GNDU, Amritsar. Photo/Tenzin Phende/CTA
Members of audience present in the auditorium listening to the speakers of the Interfaith Conference at GNDU, Amritsar. Photo/Tenzin Phende/CTA
His Holiness the Dalai Lama departs from the venue. Photo/Tenzin Phende/CTA