Tibet Information Office of His Holiness the Dalai Lama in Canberra and Tibetan Communities in Australia and New Zealand welcome His Holiness the Sakya Trizin, H. E. Jetsun Kushok Rinpoche, H.E. Ratna Vajra Rinpoche, H.E. Vajra Rinpoche and entourage to Australia and New Zealand.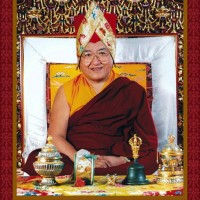 His Holiness the Sakya Trizin
His Holiness Sakya Trizin will arrive Sydney on 24 April and will start the precious Lamdre teachings on the following day. The Lam Dre is considered the most profound of all teachings in the Sakya tradition. There are no prerequisites in order to receive Lam Dre – the precious Lam Dre is a complete teaching in itself.
During the Lam Dre teachings, His Holiness the Sakya Trizin will give teachings in the morning session. His Eminence Gyana Vajra Rinpoche will review the Triple Vision teachings in the afternoon. His Eminence Ratna Vajra Rinpoche will conduct the TripleTantra afternoon re-teachings and lead afternoon meditation practices. Both His Holiness and His Eminences will teach in English.
The teaching cycle runs for approximately five weeks, and a detailed teaching schedule will be given to students at the start of the teaching. In general, the Lam Dre Tsogshe schedule includes:
Triple Vision teachings, plus Bodhisattva vows
Cause Hevajra empowerment, a major 2 day empowerment
Triple Tantra teachings, including Hevajra Path and other empowerments
There will be free days during the five week period, while His Holiness conducts a personal retreat for his own preparation to teach, and while His Holiness bestows empowerments which must be given to a limited number of students at a time.
The timing of all events will be as directed by His Holiness the Sakya Trizin.
Venue
Lam Dre 2009 will be held in the newly renovated Balmain Town Hall. The town hall was home to the 13 Golden Dharmas events during His Holiness's last visit to Australia in 2003.
Balmain Town Hall
370 Darling Street
Balmain NSW 2041
Registration and payment options and other information will be found in: http://www.drogmi.org/lamdre/registration.html

Empowerments
His Eminence Ratna Vajra Rinpoche, His Eminence Gyana Vajra Rinpoche and Her Eminence Jetsun Kushok Rinpoche have all kindly agreed to accept the organisers requests to bestow additional Empowerments outside the Lam Dre teaching program. This is a very special announcement, as these will be the only public Empowerments given by these Three Great Masters during their stay in Sydney.
The program is:
Thu 30 Apr 7.30pm – Lord of Three Families Empowerment bestowed by H.E Gyana Vajra Rinpoche
Fri 1 May 7.30pm – 1000-Armed Chenrezig Empowerment bestowed by H.E. Gyana Vajra Rinpoche
Sun 3 May 2pm – White Tara Empowerment bestowed by H.E. Jetsun Kushok Rinpoche
Fri 8 May 7.30pm – 21 Tara Empowerment bestowed by H.E. Jetsun Kushok Rinpoche
Mon 11 May 7.30pm – Manjushri Empowerment bestowed by H.E. Gyana Vajra Rinpoche
Thu 14 May 7.30pm – White Umbrella Empowerment bestowed by H.E. Ratna Vajra Rinpoche
Fri 15 May 7.30pm – Vajrapani Bhutadamara bestowed by H.E. Ratna Vajra Rinpoche
Fri 22 May 7.30pm – White Mahakala Empowerment bestowed by H.E. Ratna Vajra Rinpoche
Sat 23 May 7.30pm – Medicine Buddha Empowerment bestowed by H.E. Jetsun Kushok Rinpoche
More details and tickets will be available on the website www.drogmi.org shortly.
E-mail: info@drogmi.org +61.2 4576 0083