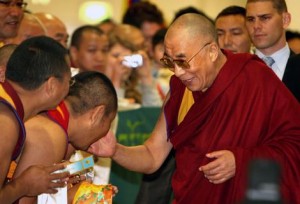 Generations change, but the resentment remains. The Dalai Lama blesses monks after arriving in Sydney yesterday. Photo: Kate Geraghty
AFTER nearly half a century as a "homeless person", as he describes himself, the Dalai Lama was yesterday still hopeful of a breakthrough in negotiations with China that might let him return to Tibet.
Speaking in Sydney, the exiled spiritual leader said he expected formal talks between his envoys and the Chinese to resume by the end of the month or in early July.
He saw a new seriousness among China's communist leaders after international concern about the repression of this year's wave of protest in Tibet and neighbouring ethnic Tibetan areas.
SMH | Link